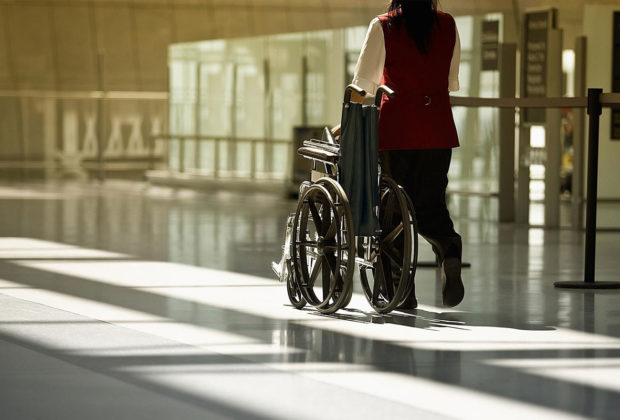 Parliament has reached a preliminary agreement to the bill concerning the rights of people with disabilities, which was presented by government: thus far, parliament had discussed 22 subjects, and it is expected to discuss the rest on Monday.
During Monday's session, the Speaker for Parliament, Ali Abdelaal, expressed parliament's determination to align itself with progressive global standards in celebrating the International Day for People with Disabilities.
Abdelaal also emphasized Egypt's past steps in regards to disability rights, as he highlighted the country's constitution which promises to maximize rights and respect for people with disabilities.
Meanwhile, Omar Marwan, the Minister of Parliamentary Affairs, noted it would be important to begin 2018 by implementing this bill, as it would represent a landmark achievement in supporting people with disabilities.
He also elaborated that the bill's importance goes beyond allowing people with disabilities to have basic rights, but it enables them to have recreational rights and protects them from carelessness and intentional harm.
The bill accounts for "people with disabilities" as well as "dwarfs."
The bill seeks to be conclusive by explicitly outlining the educational and health rights to which people with disabilities are entitled, and it specifies the roles of the health and education ministries in ensuring their rights are respected.
It also went on to focus on career preparation, by considering training people with disabilities to become productive members of society and to enhance their independence.
The bill also approved of some tax cuts: with subject 22 offering a 50 percent tax-cut to people with disabilities, as well as to people who help raise them. Additionally, as an incentive to promote inclusion of people with disabilities in the workforce, business owners whose workforce is made up of over five percent of people who have disabilities are also entitled to tax-cuts.
On top of this, the bill wants to provide direct support for people with disabilities in the form of monthly payments, and giving them the right to get paid at least two pensions.
Furthermore, introducing something which has been overlooked in the past, the bill seeks to increase accessibility as a right in daily life for people with disabilities. The Ministry of Transportation is assigned responsibility of installing appropriate systems and changes to ease accessibility to movement for people with disabilities, including by providing disabled-friendly areas in transportation services.
Essentially, the bill seeks to ensure financial, technical, and managerial independence of the Committee for People with Disabilities.
The head of the Solidarity Committee within parliament, Abdel Hadi Al Kasabi, hosted – within the committee – 576 people who represent 243 organizations for people with disabilities.
He also remarked that the bill goes hand-in-hand with the Egyptian constitution, and abides by international agreements which Egypt has signed.
However, historically it isn't a lack of parliamentary support for the rights of people with disabilities which has resulted in their societal marginalization, but rather, it is the lack of enforcement of the rule of law in regards to their rights.
The UNDP estimates that there are 12 million people with disabilities in Egypt. These people, reports the UNDP, suffer in their daily life due to lack of recognition for their basic rights: such as accessible roads and employment opportunities, among other forms of discrimination they face.
Egypt is a signatory of the UN Convention on the Rights of People with Disabilities, an international human rights treaty designed to protect the rights of people with disabilities. The treaty requires signatory countries to ensure basic rights for people with disabilities, which include their civil and human rights. Article 19 of the Convention demands the right of accessibility, through access to information as well as personal mobility.
The year 1975 saw the passing of a law providing people with disabilities access to training and employment opportunities. It wasn't revolutionary, but required companies who had more than 50 employees to ensure five percent of them were people with disabilities.
However, the law, already inherently limited in its scope, produced very little societal impact due to a lack of mechanisms enforcing this law, according to Muftah, a group analyzing progress in Middle Eastern countries.
Moreover, a 2002 study conducted by the Ivy League Cornell University in New York found that only two percent of people with disabilities benefited from governmental efforts.
By 2015, Disability Rights Promotion International – a group which monitors the implementation and progress for people with disabilities – believed the situation in Egypt hadn't improved much, and saying that the state hadn't taken any steps to accommodate people with disabilities.
So, ultimately, while parliamentary agreement on the preliminary bill is a promising start, the real challenge that the country needs to overcome, is the extent to which these agreed rights of people with disabilities will be applied and enforced on a societal level.