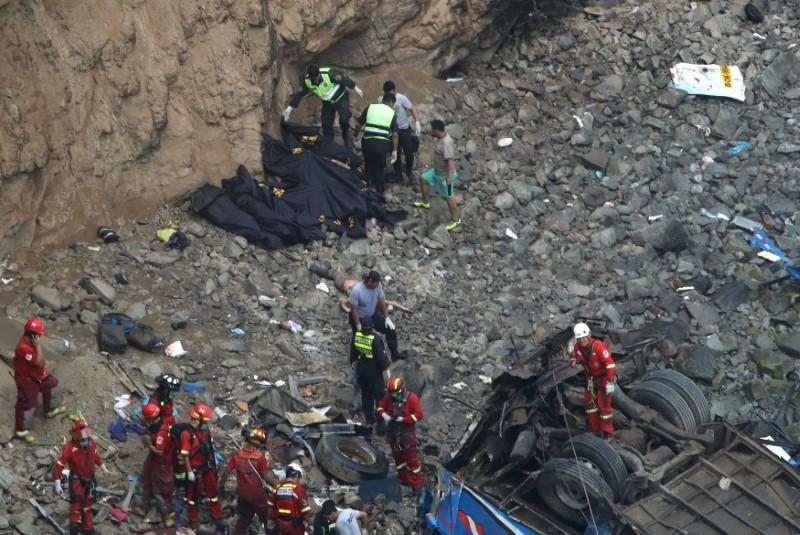 At least 48 people have died in a bus crash on a coastal highway north of the Peruvian capital, Lima. The accident took place on a notorious stretch of road known as the "devil's curve."
Peru's Interior Ministry confirmed Wednesday that "at least 48 people" died after a coach plummeted off a cliff. Another six people were taken to hospital with serious injuries. Colonel Dino Escudero, head of Lima's highway control division, said at least three remain missing.
The bus was traveling from the city of Huacho to Lima with around 57 people on board when it was hit by a truck and fell more than 80 meters (262 feet) down a cliff, authorities said.
Photographs from the crash site showed the crushed blue vehicle lying upside down on the rocky beach where it came to rest.
Rescue workers struggled to reach the area, with some making the treacherous descent on foot, while others were winched in by helicopter. Their efforts were suspended at nightfall as the rising tide reached the bus, police said.
"It is very painful for us as a country to suffer an accident of this magnitude," President Pedro Pablo Kuczynski said in a statement expressing condolences to the victims' relatives.
The crash happened on the Panamericana Norte highway in Pasamayo, about 70 kilometers (43 miles) north of Lima. The notorious stretch of road is known as the "devil's curve" because its narrow bends are often shrouded in mist.
Such accidents are not uncommon in Peru, where more than 2,500 people died in road crashes in 2016, according to official figures.