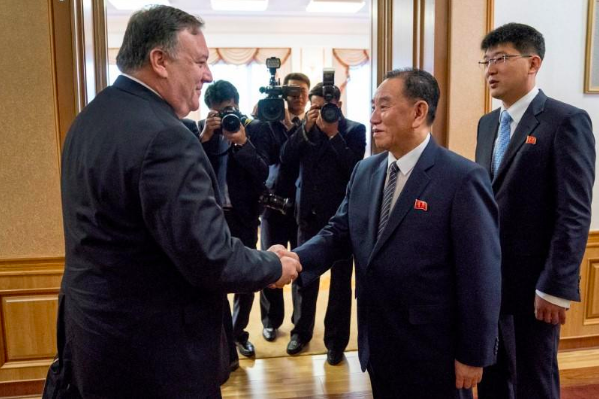 U.S. Secretary of State Mike Pompeo held a second day of talks in North Korea on Saturday in an attempt to agree details on dismantling the North's nuclear program after both sides said they had things to "clarify" from the previous day.
Pompeo spent his first night in the North Korean capital in three visits so far this year before leaving the government guest house where he stayed to make a secure phone call to update U.S. President Donald Trump on the talks.
He then sat down again with Kim Yong Chol, the top North Korean party official and former spy agency chief with whom he played a key role in arranging the summit between Trump and North Korean leader Kim Jong Un in Singapore on June 12.
Kim Yong Chol said at the start of the meeting the two had had "very serious discussion on very important matters yesterday". He joked that, as a result, Pompeo "might have not slept well last night" at the prestigious Paekhwawon, or 100 Flowers Garden, guest house.
According to a pool report from U.S. reporters traveling with him, Pompeo replied: "Director Kim, I slept just fine. We did have a good set of conversations yesterday. I appreciate that and I look forward to our continued conversations today as well."
Pompeo reiterated that Trump was "committed to a brighter future for North Korea".
"So the work that we do, the path toward complete denuclearization, building a relationship between our two countries, is vital for a brighter North Korea and the success that our two presidents demand of us," Pompeo said.
Kim agreed that the work was important. "There are things that I have to clarify," he said.
Pompeo responded: "There are things that I have to clarify as well."
U.S. State Department spokeswoman Heather Nauert said Pompeo and his staff later held a working lunch with their North Korean counterparts.
She said progress had been made but gave no details. Nauert also said Pompeo had been "very firm" on three basic goals: the complete denuclearization of North Korea, security assurances, and the repatriation of U.S. remains from the 1950-53 Korean War.