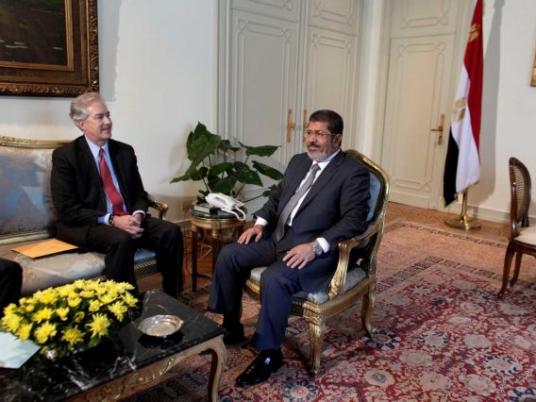 Essam al-Haddad, the president's assistant for foreign affairs and member of the Muslim Brotherhood's Guidance Bureau, met on Tuesday in Washington DC with US National Security Advisor Tom Donilon, the US Embassy in Cairo said on Wednesday.
Haddad along with Khaled al-Qazaz, the president's foreign affairs secretary, are in Washington to prepare for President Mohamed Morsy's visit to the US, which is expected to begin on 17 December.
The visit will come two days after a scheduled referendum on the new constitution on 15 December, which has stoked the ire of opposition political forces.
"The two officials reaffirmed the strategic relationship between the United States and Egypt," the US Embassy in Cairo said on its Facebook page, adding that they are discussing a broad range of issues including building on the Israeli-Palestinian cease fire in Gaza.
Last month, Washington praised Morsy for championing a cease fire between Israel and Hamas. But Washington has also expressed concerns over Morsy's commitment to democracy at home.
Haddad and Donilon also discussed "Egypt's democratic transition and the need to move forward with a peaceful and inclusive transition that respects the rights of all Egyptians," the statement said.