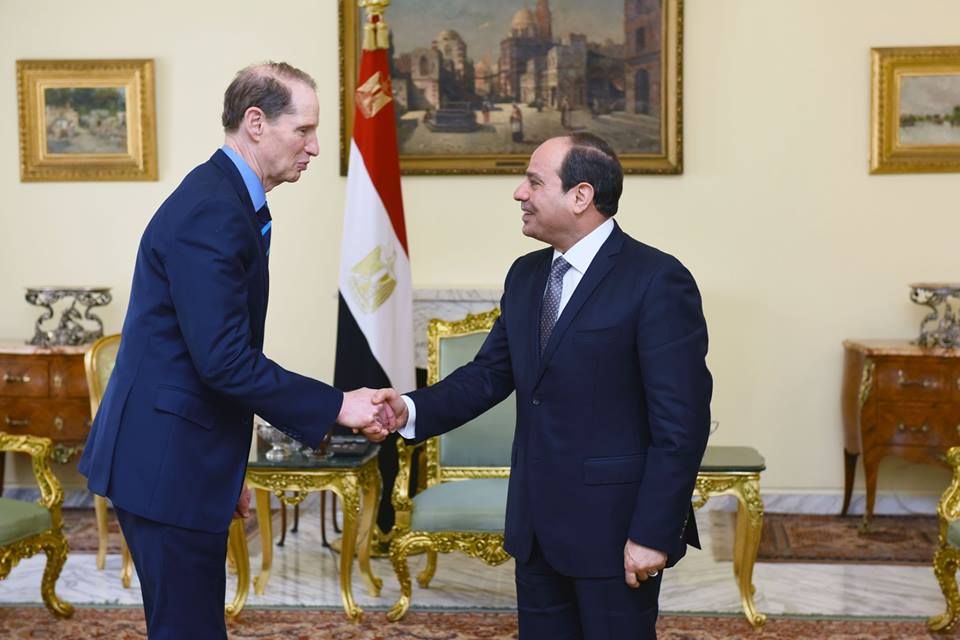 Egyptian President Abdel Fattah al-Sisi on Sunday received US Senator Ron Wyden, an Oregon Democrat, at the presence of Egypt's Foreign Minister Sameh Shoukry and the head of Egypt's General Intelligence Service Abbas Kamel.
In a statement on Sunday,  the spokesperson for Egypt's presidency Bassam Rady said that President Sisi stressed Egypt's keenness to strengthen relations with the United States in all aspects, within a framework of mutual respect and common interest.
The President pointed to the need to cooperate amid regional turbulence and the rising challenges it poses, especially the instability, and the growing threat of terrorism reaching many countries.
Sisi stated his eagerness to maintain constant communication with the leaders of the Congress. He reviewed his country's efforts in combating terrorism and extremist thought, as well as the steps being taken at the internal level for comprehensive economic reform and sustainable development, alongside Egypt's vigorous efforts to reach political settlements for the crises in the region.
Rady added that the also meeting touched upon the current developments on the regional scene and the crisis in the region, especially Libya and Syria.
The meeting also discussed the latest developments in the Palestinian issue, Rady said, explaining that Sisi stressed Egypt's firm position in this regard to reach a just and comprehensive solution that guarantees the rights of the Palestinian people and the establishment of an independent state, in accordance with international references.
According to Rady, Wyden expressed his appreciation for bilateral cooperation between Egypt and the US.
Wyden said that Egypt is considered the cornerstone of security, stability, and peace in the Middle East as well as being a pivotal partner to the US within the region.
He praised Egypt's successful role in combating terrorism, reforming religious discourse and values of tolerance.