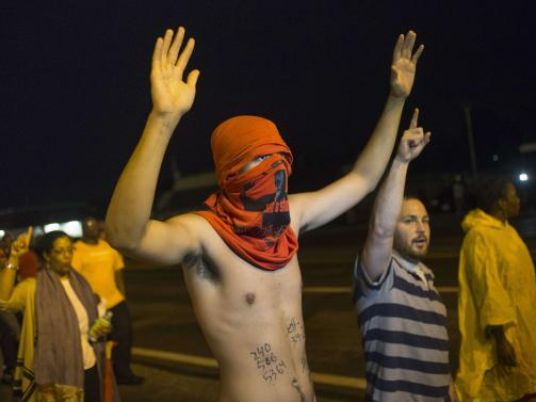 The streets of Ferguson, Missouri were mostly quiet overnight after two days of racially charged unrest sparked by a grand jury decision not to prosecute a white policeman who shot dead an unarmed black teenager.
On the eve of the Thanksgiving holiday, wintry weather kept many indoors across the state and other parts of the Midwest and the East Coast, though hundreds demonstrated against the killing in the California cities of Oakland, Los Angeles and San Diego.
Protesters also held up banners reading "Solidarity with Ferguson" and "Black Lives Matter" outside the U.S. embassy in London. Among those who attended was the family of Mark Duggan, who was shot dead by police in north London in 2011, prompting Britain's worst civil unrest for decades.
The St. Louis suburb of Ferguson first erupted into protests after police officer Darren Wilson shot dead 18-year-old Michael Brown on Aug. 9.
Wilson, who was placed on administrative leave, has said he acted in self-defence, out of fear for his life.
The town became an epicentre of national outrage again this week when a St. Louis County grand jury declined to indict Wilson on criminal charges on Monday.
The case has exposed long-running strains in Ferguson between its predominantly black residents and its mostly white politicians and police.
It has also focussed global attention on the state of race relations in the United States and evoked memories of other cases, including the fatal shooting of black 17-year-old Trayvon Martin in Florida in 2012.
Late on Wednesday, a few dozen protesters huddled in falling snow outside Ferguson's police headquarters, in sharp contrast to the scenes of arson, looting, sporadic gunfire and clashes with police on Monday and, to a lesser extent, Tuesday.
Businesses were boarded-up or burned along a mile-long stretch of West Florissant Avenue, which bore the brunt of Monday's lawlessness, and downtown streets between the police department and City Hall.
Demonstrations spread to a dozen or more major U.S. cities by Tuesday, culminating in at least 400 arrests nationwide.
Several hundred protesters blocked traffic as they marched through downtown Los Angeles, yelling, "No justice, no peace" on Wednesday. Police said more than 50 were arrested for disobeying orders to disperse.
At least 200 people ran through streets in Oakland, California, spraying walls, billboards and bus stops with graffiti and smashing storefront windows, before they were confronted by police near City Hall.
In San Diego, about 300 protesters with a heavy police escort marched peacefully through the City Heights district chanting, "Ferguson, we've got your back".
Troops deployed amid racial tension
In and around Ferguson, around 2,200 National Guard troops called out by Missouri Governor Jay Nixon were backing up local police.
"The ramped-up presence and action of the Missouri National Guard has been helpful," Nixon said on Wednesday after facing criticism for not deploying enough troops in the immediate hours after the grand jury's decision was announced Monday evening.
The United States' first black president, Barack Obama, made cautious comments immediately after the Ferguson shooting, but on Monday said that deep distrust existed between police and minorities and that "communities of colour aren't just making these problems up."
St. Louis police said three people were arrested at a protest near City Hall on Wednesday in which activists staged a mock trial of Wilson.
Sixty-three percent of Ferguson's 21,000 residents are African-American and 34 percent white, according to 2010 U.S. Census data. Ferguson's mayor, James Knowles, is white, as are most of its city council members.
A 2013 state attorney general's report found more than 85 percent of motorists pulled over in the city were black, and the arrest rate for black people was twice that for white people.
The Justice Department has been investigating whether to bring federal civil rights charges against Wilson and the Ferguson police department.
"The sad fact is that it brings up issues that we've been struggling with in this country for a long, long time," said Matthew Green, an associate professor of politics at the Catholic University of America.