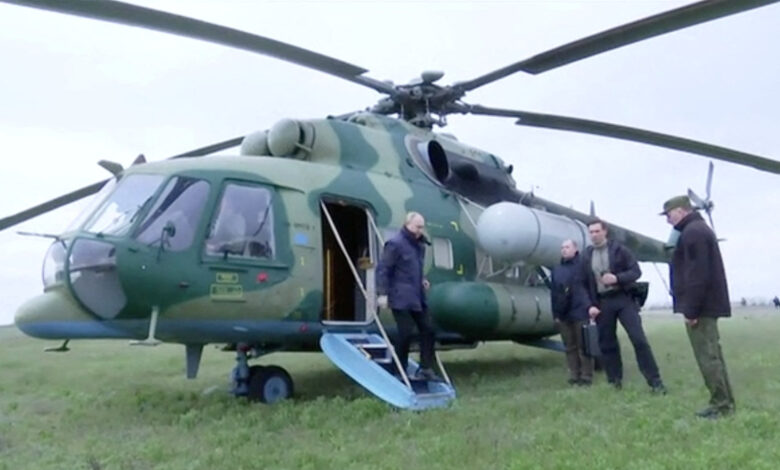 In a video released by the Kremlin, Russian President Vladimir Putin's convoy is seen passing a sign that indicates he visited Henichesk, a town in southern Kherson that has become a headquarters for Russian forces.
Putin spoke with senior commanders about the situation in the south of Ukraine while he was there.
"I do not want to distract you from your direct duties related to command and control," Putin said. "Therefore, we are working here in a business-like manner, briefly, but concretely."
"It is important for me to hear your opinion on how the situation is developing, to listen to you, to exchange information. I would ask you to start your report with the situation in the Kherson direction, then in the Zaporozhzhia direction," he continued, according to the Kremlin.
Some context: Russian forces occupy parts of both regions and some analysts think the front will be the focus of a Ukrainian counter-offensive in the coming months.
Airborne Forces: Putin also said that he had asked Mikhail Yuryevich Teplinsky, the head of Russia's Airborne Forces called the VDV, to "express his thoughts," adding that Teplinsky has been at the front line "for quite a long time and made a very detailed report."
Until recently, Teplinsky was thought to have fallen out of favor with the Russian defense ministry, but UK intelligence suggested last week that he had been rehabilitated.
"Teplinsky is likely one of the few senior Russian generals widely respected by the rank-and-file… His recent turbulent career suggests intense tensions between factions within the Russian general staff about Russia's military approach in Ukraine," the UK Ministry of Defence said.
Teplinsky was in charge of the relatively successful withdrawal from west of the Dnipro River in November 2022 and had been "previously dismissed from the theatre in January," the UK Ministry of Defence added.
The Institute for the Study of War, a Washington-based analytical group, said that "Teplinsky remains highly unlikely to restore the VDV to its prior status as an elite force due to widespread losses to the most elite Russian units that are now being restaffed with poorly trained mobilized personnel."
It said his reappearance "additionally suggests that the Russian military command is likely seeking to place an increased emphasis on the role of VDV elements in Russian offensive operations."