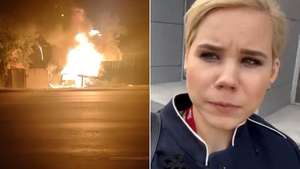 Russian President Vladimir Putin has commented for the first time on the murder of political commentator Darya Dugina, who was killed in a car bomb attack near Moscow on Saturday.
Putin on Monday sent his condolences to Dugina's family, calling her death "a vile, cruel crime."
Dugina was the daughter of prominent Russian ultranationalist Alexander Dugin.
The Russian Federal Security Services earlier Monday blamed Ukrainian security services for being behind the attack. Ruslan Muzychuk, spokesperson for the Ukrainian National Guard, told CNN that Ukrainian authorities for now had no response to the claim.
In a statement published on the Kremlin's Telegram channel, Putin said, "A vile, cruel crime cut short the life of Daria Dugina, a bright, talented person with a real Russian heart – kind, loving, sympathetic and open."
"A journalist, scientist, philosopher, war correspondent, she honestly served the people, the Fatherland, she proved by deed what it means to be a patriot of Russia," he added.
CNN's Tim Lister contributed reporting to this post.