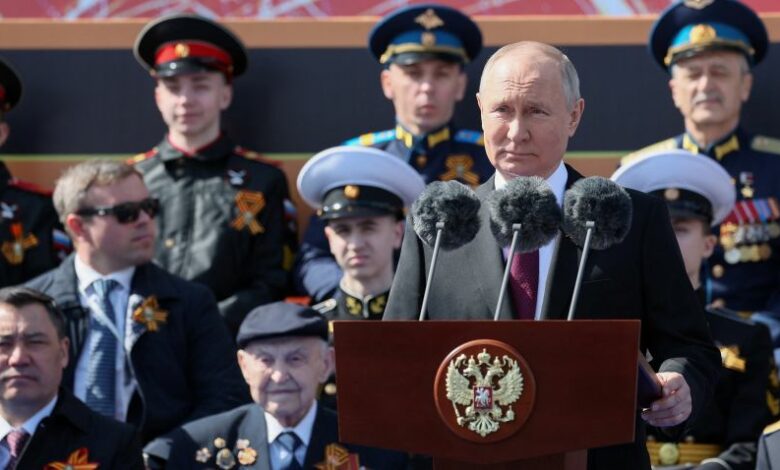 Russian President Vladimir Putin led a pared-down Victory Day parade in Moscow on Tuesday as he repeated his false assertion that the West had launched a "true war" against Russia, despite the Kremlin's unprovoked invasion of Ukraine.
Thousands of people lined the streets of Moscow's Red Square as part of Russia's annual parade, an exhibition of patriotism marking the Soviet Union's role in defeating Nazi Germany in World War II.
Victory Day is the most significant day of Putin's calendar, as he has long used it to rally public support, demonstrate the country's military prowess and rail against the historical injustices he perceives Western nations have heaped on his nation.
The Russian leader has historically led the annual military parade on Red Square with displays of military hardware including tanks, missiles, and other weapons systems, before a wreath-laying ceremony at the Tomb of the Unknown Soldier near the Kremlin wall, to honor the memory of those who perished in the battles.
More than 10,000 people and 125 units of various types of weapons and equipment were expected to be displayed at this year's parade, according to Defense Minister Sergei Shoigu. Last year the ministry announced 11,000 people and 131 types of weapons were involved in the military parade, with an airshow of 77 aircraft and helicopters.
But there was just one ancient World War II-era T-34 tank leading the mechanized column on Tuesday, as Moscow seemingly toned down its annual parade.
Tigr-M and VPK-Ural armored vehicles were also on display, but the main focus was the country's S-400 air defense system and its intercontinental ballistic system – the Yaris.
The usual fly-past above the Red Square was canceled, state media reported, without providing an explanation.
Putin used the annual Victory Day parade to launch yet another scathing attack on the West, accusing it of holding Ukraine hostage to its anti-Russian plans.
"A true war has been unleashed against our motherland," Putin said on Tuesday, claiming falsely that the West had provoked the war in Ukraine. "We have repelled international terrorism and to fit we will defend the residents of Donbas and secure our own safety. Russia has no unfriendly nations in the West or in the East."
He also again drew comparisons between the conflict in Ukraine and the fight against Nazi forces in the World War II, saying that civilization is once again at a turning point.
Throughout his short address, Putin praised Russian troops fighting in what the Kremlin calls its "special military operation" in Ukraine, saying the country is "proud" of everyone who fights on the frontlines.
"There is no more important thing now than your combat work," Putin said.
However, no mention was made of the high casualties suffered by Russian troops, which are estimated to be in the tens of thousands.
Strained relations
World leaders such as former German Chancellor Angela Merkel and former UN Secretary-General Kofi Annan had attended the military parade in previous years. But such displays of solidarity have faded in recent years, after Putin's invasion of Crimea in 2014 and the war in Ukraine fractured diplomatic ties.
Moscow had been under pressure to strengthen its show of defenses and unity on Tuesday, after last week's alleged drone strike on the Kremlin shattered the most powerful symbol of the Russian presidency.
Kyiv and its Western allies exchanged thorny memos with Moscow after it accused Ukraine of carrying out orders from the US in an attempted assassination against Putin. Ukraine and Washington vehemently denied the allegations.
The cause of the explosions is unknown, but the optics of a symbolic attack against the Kremlin gave it an opportunity to rally support for Putin from Russians as critics continue to speak out against Moscow's full-scale invasion.
On Monday, Russian oligarch Andrey Kovalev called Moscow's military campaign "a terrible war."
"The whole world is against us," he said in a video speech later shared on Telegram.
At the same time, strained relations between senior Russian officials exploded into a public display of disunity on Thursday after Wagner chief Yevgeny Prigozhin threatened to withdraw its forces from the city of Bakhmut due to insufficient support from the Kremlin.
Prigozhin appeared to walk back on his comments on Sunday, but the heated outburst indicated a lack of morale as Russian forces struggle to break through the key battleground in eastern Ukraine – ahead of an expected spring offensive from Kyiv in the south.
'Evil has returned'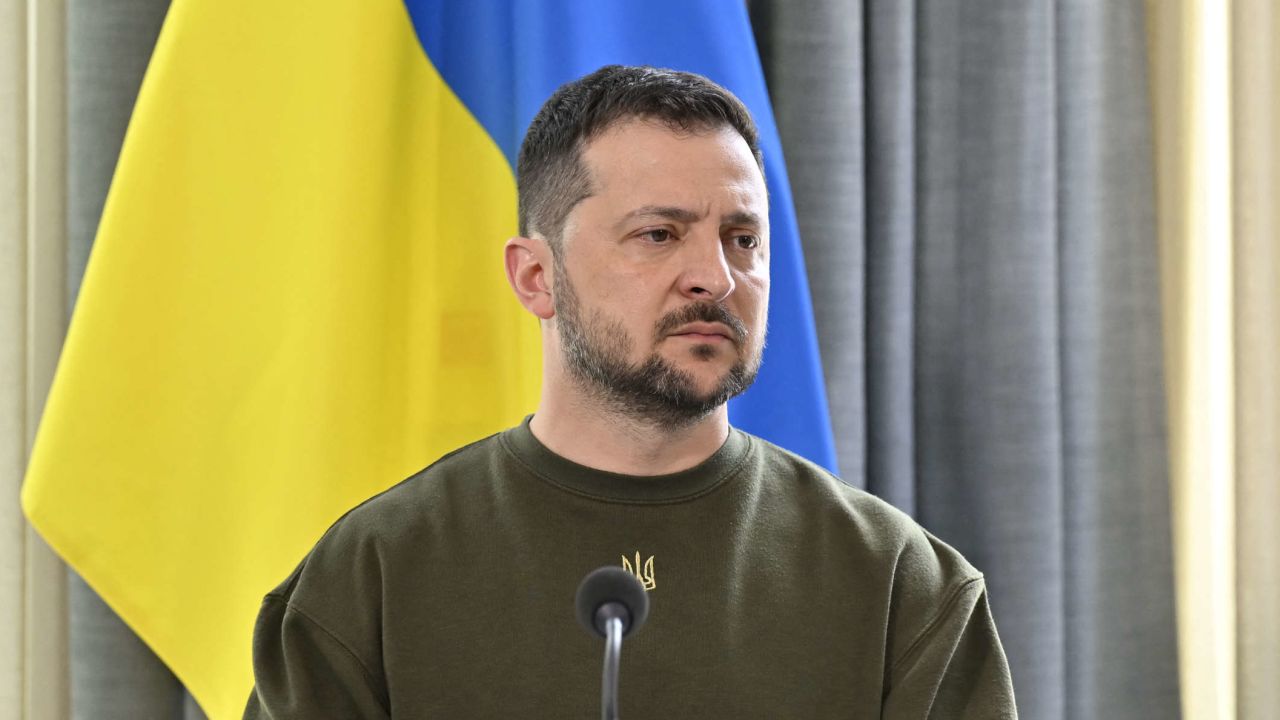 Ukrainian President Volodymyr Zelensky compared Russia to Nazi Germany as he proposed moving Victory Day celebrations a day earlier in a bill presented to lawmakers, in an effort to distance Kyiv from the Kremlin's celebrations.
Like Russia, Ukraine traditionally commemorates victory over the Nazis on May 9, but that date has become increasingly associated with a parade in Moscow.
"It is on May 8 that most nations of the world remember the greatness of the victory over the Nazis," Zelensky said Monday.
CNN's Zahid Mahmood, Vasco Cotovio, Gawon Bae, Angela Dewan and Katharina Krebs contributed reporting.