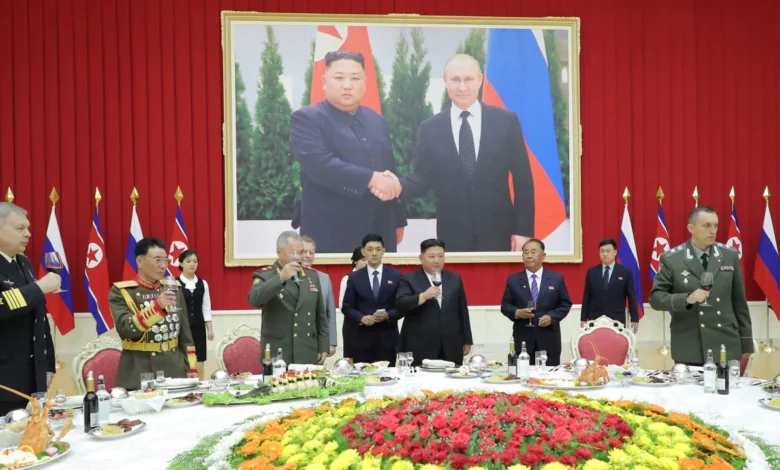 Seoul, South Korea
CNN
 —  North Korea's "firm support" for
Russia's war in Ukraine
emboldens the two countries' determination to cope with Western nations, Russian President Vladimir Putin said in a speech to North Korean officials on Thursday, according to a report in North Korean state media.
Putin did not go into detail of the nature of Pyongyang's support in what he called Russia's "special military operation." But US officials said last year that North Korea was selling millions of rockets and artillery shells to Russia for use on the battlefield in Ukraine.
"Solidarity with Russia on key international issues highlight our common interests," Putin said in the speech, according to the state-run Korean Central News Agency (KCNA).
The Russian leader's remarks on his invasion of Ukraine were contained within a message of congratulations to North Korea on the 70th anniversary of the Korean War armistice, known as Victory Day in the North, even though the grueling conflict ended in stalemate and the peninsula divided.
Putin specifically cited Soviet pilots, whom he claimed "carried out tens of thousands of combat flights" for contributing to "annihilating the enemy," KCNA said.
"The historic experience of combative friendship has noble values, and is serving as a reliable foundation to further develop the connection between Russia and North Korea in the field of politics, economy and safety," Putin said, according to KCNA, which shared a written version of Putin's speech, but did not say whether it was addressed via a video recording or in writing to the North Korean officials.
The 1950-1953 Korean War was one of the first international conflicts of the Cold War era.
ICBMs at military parade
Putin's speech came as Pyongyang held a large military parade featuring two models of intercontinental ballistic missiles (ICBM) as part of its armistice commemorations.
Hwasong-18 missiles, Pyongyang's newest solid-fueled ICBMs, were wheeled into Kim Il Sung Square in the capital followed by the Hwasong-17, a liquid-fueled ICBM.
This is not the first time North Korea has showcased the Hwasong-18, which was last claimed to have been launched on July 12 with a flight time of 74 minutes, the longest ever for a North Korean ICBM.
Analysts say the missile likely has the range to target all of the mainland United States.
As the parade went on below, North Korea flew versions of a new "strategic reconnaissance drone and the multi-purpose attack drone" overhead, according to KCNA.
North Korean Defense Minister Kang Sun Nam declared it a "huge glory" for the North Korean Army Forces and a "great celebration" for all of its people to hold a military parade on the 70th anniversary of the Korean War armistice, KCNA reported.
The parade also capped off visits to Pyongyang by high-level delegations from Russia and China.
Russian Defense Minister Sergei Shoigu and Li Hongzhong, a Chinese Communist Party Politburo member, joined North Korean leader Kim Jong Un on a reviewing stand, KCNA reported.
Kim on Wednesday gave Shoigu – an architect of Moscow's assault on Ukraine – a tour of a defense exposition in Pyongyang, with images from North Korean media showing them walking past an array of weaponry, from Pyongyang's nuclear-capable ballistic missiles to its newest drones.
Also Wednesday, at a reception for the Chinese delegation, senior North Korean official Kim Song Nam thanked Chinese forces for joining in the Korean War, saying North Korea "would not forget forever the heroic feats and merits of the bravery soldiers who recorded a brilliant page in the history."
Analysts said the presence of the Chinese and Russian delegations in Pyongyang should raise concerns among world leaders.
"China's representation at North Korea's parading of nuclear-capable missiles raises serious questions about Beijing enabling Pyongyang's threats to global security," said Leif-Eric Easley, professor of international studies at Ewha Womans University in Seoul.
And Kim's meeting with Shoigu should set off alarms too, he said.
"Given Russia's need for ammunition for its illegal war in Ukraine and Kim Jong Un's willingness to personally give the Russian defense minister a tour of North Korea's arms exhibition, UN member states should increase vigilance for observing and penalizing sanctions violations, Easley said.