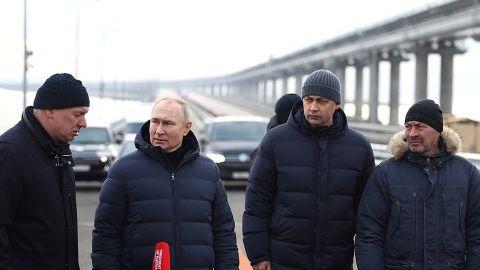 Russian President Vladimir Putin has made a visit to the Kerch Bridge, a key link between the annexed Crimean peninsula and mainland Russia which was partially destroyed by an explosion in October, according to Russian state media.
Photos and videos from the visit have been released, including footage of Putin behind the wheel of a Mercedes vehicle sitting beside Russian Deputy Prime Minister Marat Khusnullin. In another video Putin is seen walking along a section of the bridge.
In the driving video, Khusnullin tells Putin that "metal was available for bridge parts, so the metal was brought over to build these structures, and within two weeks all the 1,214 tons were assembled and brought here." This is an apparent reference to the damage caused to the bridge by the explosion on October 8.