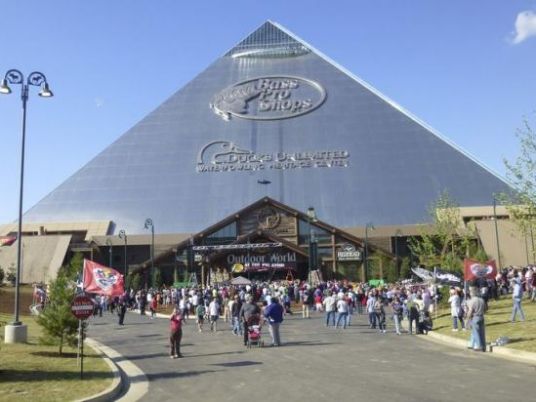 The Memphis Pyramid, a former sports and concert arena and Mississippi River landmark which has sat largely idle for 11 years, has reopened this week as a retail and entertainment complex which the city hopes will be a major tourist attraction.
The outdoors goods retailer Bass Pro Shops opened a "megastore" in the pyramid on Wednesday evening – which includes shopping, a bowling alley, restaurants, hotel and an observation deck. The work was financed with the help of more than $150 million in city and state funds.
Memphis, named for the Egyptian city, hopes the pyramid will attract two million annual visitors to the 321-foot-high (98 m) building to sample fried catfish and check out an indoor swamp and other attractions.
"Thank you for keeping grinding on this and making it work," said Tennessee Gov. Bill Haslam at the pyramid's reopening. He called the structure "one of the most symbolic buildings in the state."
Bass plans to charge visitors $10 to take a trip to the top of the building for views of downtown Memphis and the river.
The shiny, metal-sided Pyramid opened in 1991 as a 20,000-seat venue for basketball games and concerts.
Boosters hoped it would rival the Egyptian pyramids and the St. Louis Gateway Arch in grandeur, but the attraction fell short of expectations. An "inclinator" – an outdoor elevator to the top – was never installed and the top floors were not finished.
Also, the building's odd configuration made climbing to cramped seats in the upper levels a daring experience, according to visitors.
When the Grizzlies National Basketball Association team moved to Memphis from Vancouver in 2001, it made a condition of the deal it would only play in the Pyramid until a new arena was built in 2004 – the $250 million FedEx Forum. That made the Pyramid a giant white elephant at the relatively young age of 13.
Bill Dance, a folksy celebrity fisherman from Memphis with a popular television show, helped to persuade his friend, Bass Pro founder John Morris, to complete the project. Dance has said in interviews that he bet Morris on a fishing trip that if they caught a big catfish on the Mississippi, he would do the project.
The fish was caught, and Bass Pro was in the net.