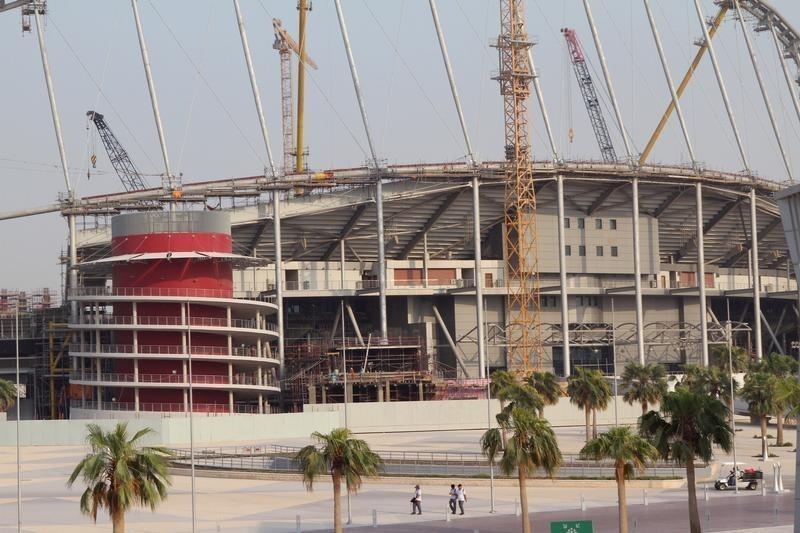 Qatar is confident that it can host a successful World Cup in 2022 and preparations are fully on track after a boycott by its Gulf neighbours briefly disrupted supply lines last year, its foreign minister told Reuters.
Sheikh Mohammed bin Abdulrahman Al Thani, who is also deputy prime minister, said Qatar's economy was now growing much faster than anticipated and the major gas exporter was well prepared to withstand the crisis in relations with its neighbours.
He also said Qatar still counted on strong support from US President Donald Trump to help solve the crisis and had filed legal complaints with Western regulators against what it sees as currency and market manipulations by its neighbours.
"We are confident we will host the best World Cup in the Arab world. It will represent the whole Arab region," Sheikh Mohammed said in an interview during the World Economic Forum in Davos.
"The government has already overcome the disruptions which happened to supplies at the beginning of the crisis and we have introduced alternative routes.
There is no disruption at the moment," he said, adding he had heard no signals from FIFA that it was planning to change the venue of the World Cup.
FIFA has made no suggestion that either Russia or Qatar should lose the right to stage tournaments in 2018 or 2022 respectively, despite publishing a report last year detailing numerous attempts to influence voting officials.
The diplomatic crisis, in which Saudi Arabia, Bahrain, the United Arab Emirates and Egypt have boycotted Qatar, erupted last summer when the four countries cut diplomatic, transport and trade ties with Qatar, accusing it of financing terrorism.
Riyadh also accuses Qatar of cosying up to the kingdom's arch-rival Iran. Qatar rejects the charges and says it is being punished for straying from its neighbours' backing for authoritarian rulers.
The World Cup is the centrepiece of Qatar's strategy to project itself on the global stage.
The soccer tournament was dragged into the Gulf crisis last year when the UAE said Qatar's hosting of the World Cup should depend on it rejecting "extremism and terrorism."
Security undermined 
Sheikh Mohammed said the crisis was negatively affecting security coordination across the entire Gulf region.
"This undermines our collective effort in combating terrorism. Our officers are not allowed to go to the (US) Fifth Fleet, their (Saudi and UAE) officers' seats are vacant in Doha while their flags are there," he said, referring to the US Navy in the Gulf and the US base near Doha.
Qatar and Saudi Arabia have both been among the closest allies of the United States but all attempts by Washington to help solve the crisis have so far failed.
"When President Trump spoke to the Emir (of Qatar, Sheikh Tamim bin Hamad Al Thani) last week he stressed this point and he said that he wants to help in solving the crisis."
"But when one of the parties is unwilling to engage… then it will be difficult," said Sheikh Mohammed.
Qatar filed a complaint to the United Nations about an alleged violation of its airspace in December by an Emirati military aircraft.
Sheikh Mohammed said Qatar was seeking no military escalation with the United Arab Emirates following a renewed bout of verbal sparring regarding alleged military overflights.
Sheikh Mohammed said Qatar's central bank had also filed legal complaints with Western regulators regarding alleged manipulations of its currency.
"The information we had that there is something wrong being committed within our financial markets and these complaints are taking their due process and there are legal steps Qatar is taking," he said.
Sheikh Mohammed said one of his main worries was a direct conflict between Saudi Arabia and Iran.
"Qatar is just sandwiched between them. And this means that any direct conflict between Iran and Saudi will have a spill over not only on Qatar but on the entire region."
Qatar's economy has been growing faster than expected despite the boycott and Sheikh Mohammed said its sovereign wealth fund, one of the world's largest, was expanding investments abroad, defying expectations it would shrink.
"We have built strong resilience, we are opening up new trade lines, we have built a new port," he said. "Our investment fund is seeking new investment opportunities… and tapping new continents. We have plans for Africa, which we will launch soon, and next year we have plans for the Central Asian region."
If the dialogue with its neighbours resumes, the countries should work out a new strategy for co-existence based on respect for one another's sovereignty, he said.