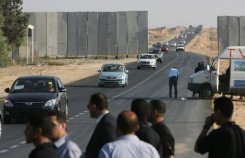 Authorities closed the Rafah crossing in both directions at the Egypt-Gaza border on Friday, DPA reports.
An official security source said that the land crossing will be closed on upcoming Fridays, which are official weekend days for employees.
The crossing will be reopened Saturday morning for four hours to accomodate hospital patients, pilgrims, and residency holders, according to the source.
The Rafah crossing has been a vital entry point into Egypt for Palestinians living in the Israel-besieged Gaza Strip.
Egyptian authorities have recently been destroying underground tunnels used to smuggle commodities to Gaza from Egypt.
Edited translation from DPA