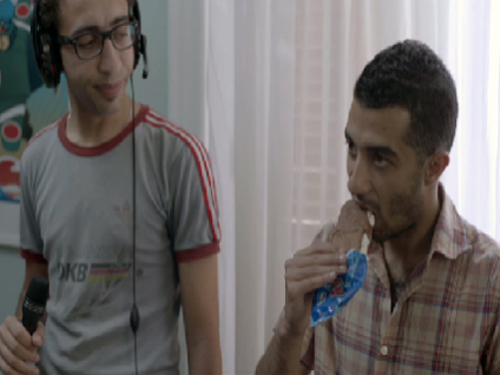 Every Ramadan, the ad scene seems to get more and more intense. Like the US during the Super Bowl, ad space during Ramadan TV shows is highly coveted airtime.
Anyone who grew up in Cairo in the 1980s will remember the TV ads that consisted of a screen filled by a piece of paper with different colored Arabic writing and a monotone voice reading the ad material out loud. We've come a long way since then, with ads such as "Bistika naw" for Gersy chocolate, and "Eh dah ya Mahmoud" for Carpet City. But the breakthrough in Egyptian ads started in 2007 with Leo Burnett's ad for Melody Tunes, in which Egyptians sang out their renditions of hit American songs from that year, including 50 Cent's "Candy Shop."
Over the past year, ads in Egypt have taken a strange turn with the vicious Panda from Panda cheese and the Dice boxers that are overtly suggestive.
This Ramadan, ads have taken a different turn, and the nuances about Egyptian culture have gone to new heights. A main theme throughout is the role of women. The Egyptian woman has taken a beating this Ramadan with the overly excited cooking housewives to the naggy customer service women and finally, the horrific mother in law and the equally treacherous and manipulative wife from the Beyti ads. Here are our top most interesting ads for Ramadan 2012 — both the good and the bad.
The Maxibon ice cream ad
Two young guys make "music" on turntables, one singing with autotune. His father walks in and belittles their work. The friend, spinning and eating a Maxibon, then eats the father. "Abooooyaaaaa!" says the singer before he too gets eaten.
The switch to Etisalat ad
A man tries to cancel his subscription at his mobile service provider and ends up in a "breakup" situation with the customer service representative. In one ad, the Etisalat customer service representative, who is much more attractive, is peaceful and patient. The other service provider's customer service representative is the nagging, insecure and controlling type. In the end, Etisalat tells you, it's hard to break up with your service provider, but it's worth it for what they're offering.
Ahly Bank small loan ad
A fabric salesman displays his fabric by throwing it out like a net into the sea. A gift shop salesperson wraps the gift like it's a fiteer, an Egyptian pastry. A food deliveryman knocks at the door, trying not to deliver food but to find out whether the wood in the door is weak or hollow. "In the wrong profession?" it asks. This is the first Egyptian bank ad that's ever had any humor.
Birrell's new take on 'manning up'
After a few years of making fun of people who use coasters and publicly hitting on gorgeous blondes in their ads, Birrell has decided that when men don't act aggressive, they should just turn into women all together. A man on the phone tries to assert himself and with every strong stand comes a mustache — with every pleading apology, long hair and earrings. At the end of the ad, he drinks Birrell and ends up with a full-on beard, wolf-man style, and gives a howl. It is unclear whether the beard-equals-manliness idea has political connotations.
The Vodafone broken ad ad
The LE12 million all-star cast of Vodafone's latest "the ad broke and fell on everyone" ad has carried us story by story though Ramadan. First we had the ad fall, then people were rushed to the hospital, then interviews were held and now people have lost their memories. With the likes of Samir Ghanem, Karima Mokhtar, Sawsan Badr, Sami al-Adl, Dorra Zarouk, Ahmed al-Fishawy, Barakat the soccer player, to mention a few, the ad may be a little slow going but the story is funny and almost every "episode" has a great quote or two.
The molokheya Rawabi butter ad
With huge makhratas (large curved knives for chopping molokheya) in a field and women, dressed in colorful 50's style skirts and tops, gathering together to rescue a woman whose husband wants molokheya with chicken – countryside style. "I'm too inexperienced for this!" she exclaims, but his mother will show her "how to keep her husband happy." With the secret Rawabi butter, the molokheya gets a whooping reaction from hubby.
The Universal musicals
Universal seems to have decided that singing and dancing are the best ways to sell washing machines and ovens. Men and women twirl and lyricize life with Universal appliances. It's fun and creative, but a little redundant
Beyti's juice wars between wife and mother
Two ads pit wife against mother-in-law in a constant competition over offering juice. The wife says, "you've been to see your mother — she gave you the juice — well, now I know the secret of the juice. " The secret is just to pour it out of a Beyti carton. Then, mother says to son, you look like you haven't had juice, your wife doesn't give you juice? Only I know the secret of the juice, (which is also just to pour it out of a Beyti carton). Not only is the mother-in-law horrific, but the whole ad is petty, manipulative and borderline gruesome.
A version of this piece was originally published in Egypt Independent's weekly print edition.