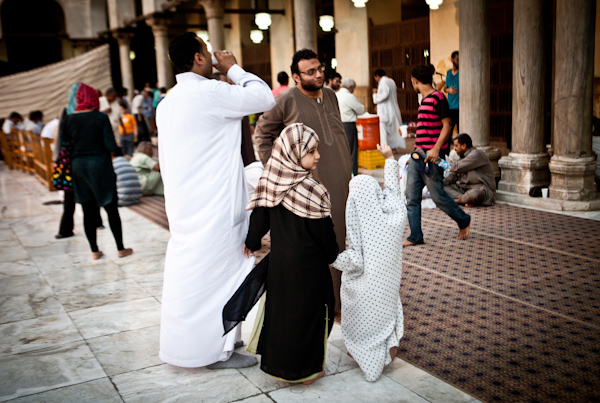 Soheir Salem, a housewife and mother of four, walked out to the markets last Friday looking to buy her pre-Ramadan groceries in a lower middle-class neighborhood in Islamic Cairo.
Her husband, an employee at a recycling factory, has her on a tight budget this year, just like the last, and she was ready for high prices to hamper the majority of her buying. But she was pleasantly surprised.
"The markets aren't as empty as I'd thought, and prices were not inflated, as they tend to be," she said. Still, Salem acknowledges that "it does not feel like Ramadan. People aren't buying as much as before."
Despite the economy experiencing a state of diminished productivity, markets have been able to largely fend off the inflationary pressures of Ramadan, when basic food staples are in high demand. Government reports even suggest June saw a marked slowdown in inflation, falling to around 7.25 percent, from an average of more than 10 percent the year before.
Many agree the situation for both buyers and consumers is better this year than the first post-revolution Ramadan last year. According to statements from various Cairo Chamber of Commerce representatives, prices of most basic commodities, such as rice and sugar, have actually seen a pre-Ramadan decrease.
However, the mood around the markets is one of ambivalence, with uncertainty looming for consumers, retailers and the government.
Consumers want to continue the pattern of high consumption during the holy month but are not always able to do so. The government is trying to meet the high demand. Retailers, meanwhile, have stockpiled but are reluctant to import as much as before because of the economic and political instability.
The end result is a Ramadan without the normal shopping frenzy.
A consumer culture
Consumers and stores in upper middle-class neighborhoods such as Heliopolis seem to be operating as usual for Ramadan. Stores are full, and shopkeepers are employing their normal marketing tools for the holy month, such as flashy lights and colorful awnings.
In some of the lower-income areas, such as where Salem goes shopping, Ramadan-specific imagery is still available in abundance, but the mood among buyers and sellers is not the same.
"Not everyone, like my husband, is employed. Many of the laborers who do not have guaranteed paychecks are not buying as much this Ramadan," she said.
And their children will not be getting new clothes like they do every year.
"They will try to spend on more food and some gifts to celebrate with, but it will not be the same," she added.
Ramadan, a month of fasting and supposed austerity, is usually a time of high consumption that injects the economy with expansionary activity that benefits the economy.
As Vali Nasr, dean of the Johns Hopkins School of Advanced International Studies, wrote in Foreign Policy magazine, "although not quite the global consumer behemoth that is Christmas, Ramadan comes in a respectable second."
Nasr, the author of a book titled "The Rise of Islamic Capitalism," says Ramadan tends to be a time for big businesses to flourish, despite the fact that "productivity in the Muslim world plummets during the fast."
Egypt is usually no exception.
"Usually, Ramadan consumption can increase up to threefold during the month," said Soad al-Deeb, a manager at the Association for the Protection of Consumers.
Deeb said most families increase consumption dramatically during the holy month because they hope to be as hospitable as possible.
The Central Agency for Public Mobilization and Statistics released a study this week saying that, based on 2010/11 statistics, Egyptians spend, on average, 40 percent of their household income on food and beverages.
Traditionally, the poorest countries spend more money on food as a percentage of income. Egypt's average falls between India (35 percent) and Kenya (45 percent), according to a 2009 study. The average American and British family spends 6 percent and 9 percent respectively on food.
For Egyptians, food prices have a direct, and disproportionately large, effect on their well-being. The higher demand for food in Ramadan tends to be seen as a red line, and the government tries to make sure it meets this demand to avoid food riots. Usually, the market takes care of itself, and merchants accommodate a good portion of the higher demand.
This year, the decrease in productivity comes after a year of already reduced productivity, meaning the government and imports will be responsible for providing much of the shortfall.
"This could potentially have a negative effect on our foreign reserves," said Chahir Zaki, an international economics professor at Cairo University.
Zaki believes that to avoid the long-term downsides of such a situation, Egyptians must learn to adopt a more austere lifestyle until the economy and internal production picks up again.
"Demand must decrease in order to bolster the economy," Zaki said.
For him, a drop in consumption will not only stave off a potential wave of high inflation and disappointment among consumers, but may also have a corrective advantage.
A struggling government
"The Egyptian consumer needs to know that staple products are provided for in order to feel safe," said Faisal Mostafa Kamel, a general manager at one of the so-called consumer complexes, sanctioned by the government to provide staple goods at wholesale or subsidized prices to individual consumers.
These complexes are usually open to all, but buying from them during a time like Ramadan often entails waiting in long, sweaty lines.
The government already spends up to LE26 billion on food subsidies, which is around 5.5 percent of the total budget.
Reports from these complexes suggest they were in a state of emergency over the month of June and July, trying desperately to stock up before Ramadan because of a government order to ensure such products were available.
"The mood is a bit better than last year, as the markets will be able to meet the Ramadan demand this year," Kamel said.
There wasn't a supply crisis last year, Kamel said, but the sense of uncertainty was higher. Even Ramadan luxury items such as certain dried fruits and nuts are available this year in abundance in the markets, and at affordable prices.
Not-so-upbeat sellers
Some believe months of low consumption have led to a certain amount of stockpiling in the market, leading to some of the lowered prices.
"People have not been wanting to consume. Some stores are full and ready for Ramadan, but I don't expect a flourishing market like most Ramadans," said Salah Abdel Aziz, a board member of the Cairo Chamber of Commerce's nutrition division.
The pre-Ramadan sales usually cause suppliers to worry that they haven't stocked up enough. Most retailers expect sales to go up three to four times during this period, Abdel Aziz said.
This year, he said, no one is raising their expectations that high.
"They're just hoping people will come out to buy at all," he said.
According to Abdel Aziz, most retailers have stopped importing as the sense of lawlessness that began during the 25 January revolution continues.
"When you import these days, you're afraid your shipment will not get through customs," said Abdel Aziz, who is a retailer himself. "If it does, you're not sure it won't be stolen on the way to the warehouses. If it does, you're still not sure it won't be stolen from the warehouse. There is no sense of security."
But not all sellers are skeptical.
"I'm acting as if nothing happened. This year is better than the last. We just need to have faith that people will buy and the markets will finally calm down," said Ahmed Atteya, a retailer in the Bab al-Louq market in downtown Cairo.
Abdel Aziz said some of his colleagues at the Cairo Chamber of Commerce think purchasing power for the average consumer is still down around 40 percent from the days before the uprising broke out last year. Consumers and suppliers alike are hesitant.
"If someone has money, he is definitely afraid to use it," he said.
Many thought the markets would be resuscitated once a new president was elected. However, recent political turmoil has ensured another uneasy Ramadan, said Abdel Aziz, whose main role at the chamber of commerce is to gauge the mood among suppliers and help coordinate between them.
"The markets are extremely sensitive to any political unease. Most suppliers react immediately to any issues by holding on to their money. The recent dissolving of Parliament and the probable dissolution of the Constituent Assembly are making us all unsure again," he said.
Usually, the highest wave of spending occurs in the week preceding Ramadan. At the time of print, most retailers and consumers interviewed had noticed a dip in purchases, compared with previous Ramadans.
Retailers are usually able to manipulate the market and prices during the holy month to their advantage, but this year they will not be able to do this.
If consumers were to tighten their purse strings, it might also help prevent retailers from pushing prices up unreasonably, Deeb said.
"It would also allow consumers to become selective again and reverse the trend of retailers introducing substandard goods to the markets," she said.
Additional reporting by Marina Barsoum