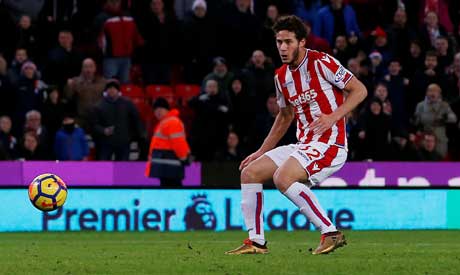 Bet365 Stadium stood still as it witnessed one of the most important moments in Egyptian winger Ramadan Sobhi's career. The 20-year-old made history as he became Stoke City's youngest top-flight scorer in almost 33 years, securing a vital win for his team Stroke City against West Bromwich Albion.
"Wow! Such an Honor!"  Sobhi tweeted, sharing a post stating that he had written history by becoming "Stoke's youngest player ever to score in Premier League".
The Potters started the game on a hot streak as they scored their first two goals. However, attempts from Bromwich jeopardized this much-needed victory, scoring one goal and proving they can hit back. It wasn't until Sobhy netted the third goal that the Potters sealed the deal.
Sobhi also scored the goal at a crucial time, leaving the bench with only 11 minutes remaining in the game.
Regarding Sobhi's goal, striker Choupo-Moting, who assisted said, "I am very happy for Ramadan too because I know he hasn't scored this season so it meant a lot to him."
The Egyptian striker has provided two assists in the 14 matches in which he participated in out of 20.
"I'm am happy to play a small part against a very good team," said Ramadan, in his first brief interview in English since joining the club in the summer of 2016 for the Stroke Sentinel.
"Choupo-Moting did very well and we're pleased. The team is like a family and we did very well today.
"It was a very good win, we are stronger now and we were glad to do it in front of our fans."
Egypt winger Sobhy has previously scored for Stoke in the League Cup against Rochdale in August.
Sobhi first joined Stroke City in 2016 for a fee of five million euros after he shined playing for Al-Ahly and the Egyptian National Team. He is also part of the Egyptian National Team that made it to the World Cup. He is the second youngest Egyptian National Team player in history after Mido.