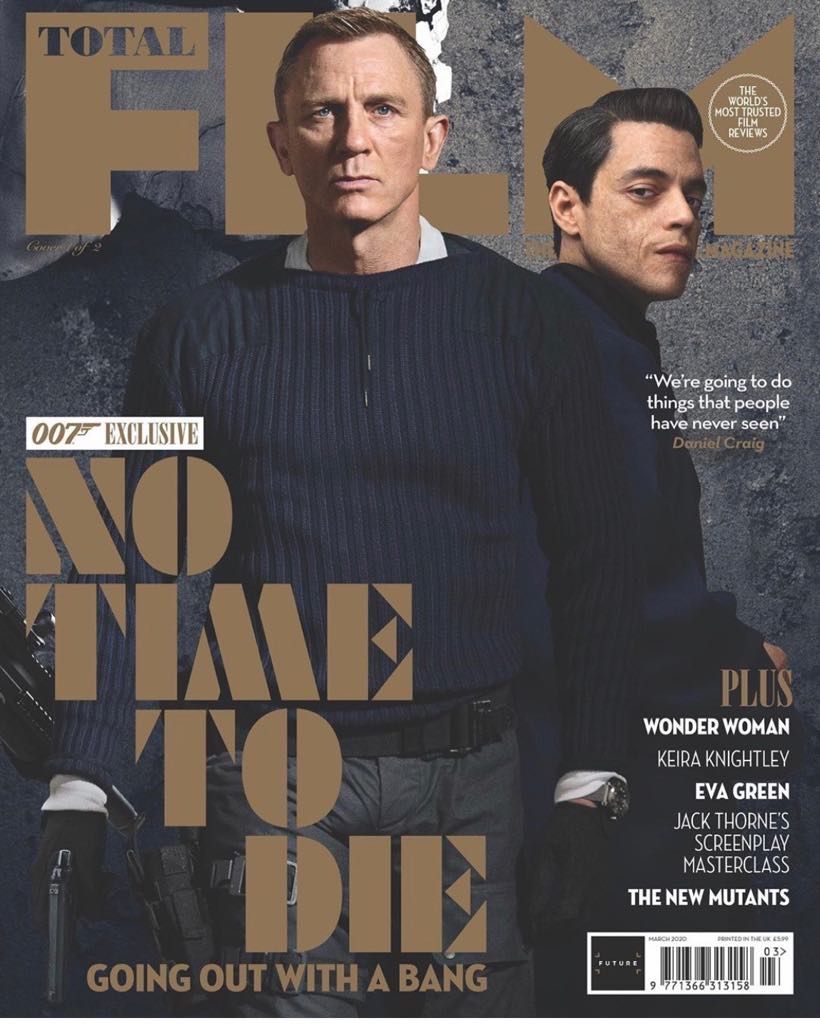 A new poster for the latest James Bond flick "No Time to Die" has been released, with Egyptian-American actor and Oscar winner Rami Malek featured prominently alongside Daniel Craig and the film's other stars.
Malek will portray Safin, an armed foe with dangerous new technology, with Bond hot on his tail to protect the world from a mysterious new adversary – all in a day's work for 007.
New Poster #NoTimeToDie pic.twitter.com/KRnCk4wYUN

— Daniel Richtman #BlackLivesMatter (@DanielRPK) February 29, 2020
Bond had quit active service to retire to a quitter life  – only to be contacted by an old friend from the CIA, asking for help to save a kidnapped scientist, leading Bond on the trail of his newest nemesis.
Although the movie was expected to be released in April 2020, producers have announced its delay until November 2020 in the US and UK amid coronavirus fears in an official statement.
The movie's star-studded cast includes Daniel Craig as James Bond, Léa Seydoux as Dr. Madeleine Swann, Bond's love interest in the film, Ana de Armas, Ralph Vines, Christoph Waltz, Naomi Harris, Billy Magnusson, Jeffrey Wright, Ben Wishaw, and Lashana Lynch, and is directed by Cary Fukunaga.
Speaking to Bleeding Cool news outlet, Malek said that he has never played a role like that of "No Time to Die," adding that he prepared for the movie by watching one particular Bond movie: "Dr. No" (1962). His comments left fans to speculate if the iconic villain and the Safin character were one and the same.
Describing the character of Safin as "very exciting", Malek said that the villain he is playing in the movie differs from others portrayed in the series, according to BBC Entertainment.
Malek said he spent a long time with dialogue coach William Conacher to come up with a unique voice for the character.
Other movies in the iconic Bond series include "From Russia With Love" (1963), "Goldfinger" (1964), "Thunderball" (1965), "You Only Live Twice" (1967), "The Spy Who Loved Me" (1977), "Live and Let Die" (1973), "Goldeneye" (1995), and the recent Daniel Craig installments.
Speaking of his upcoming projects, Malek is expected to star in a new movie alongside Danzel Washintgon, by the renowned John Lee Hancock. Having no title yet, the release date has been set for January 2021.
Malek was nominated for Best Actor in a Television Series — Drama for his leading role in the USA Network show "Mr. Robot" in December 2019.
He previously won the Oscar for Best Actor at the 91st Academy Awards for his exceptional portrayal of Freddie Mercury, the legendary front man of the British rock band Queen, in the biopic film "Bohemian Rhapsody".
He beat Christian Bale for the award, who portrayed former American Vice President Dick Cheney that year in "Vice," as well as Bradley Cooper, who played musician Jack Maine in "A Star Is Born."
Malek also took the BAFTA Award for Best Actor in a Leading Role based on bis performance in "Bohemian Rhapsody," as well as the Screen Actors Guild Award for Outstanding Performance by a Male Actor in a leading role.
The Egyptian-American actor is well known for his role in "Mr. Robot," which was created and produced by fellow Egyptian Sam Esmail. Malek stars as Elliot, a brilliant cyber-security engineer and computer hacker who suffers from an anxiety disorder.
"Mr. Robot" was a life-changing experience that Malek considers a turning point in his career. He has described the opportunity to take on the leading role in a popular television series as the experience that put him on the map.