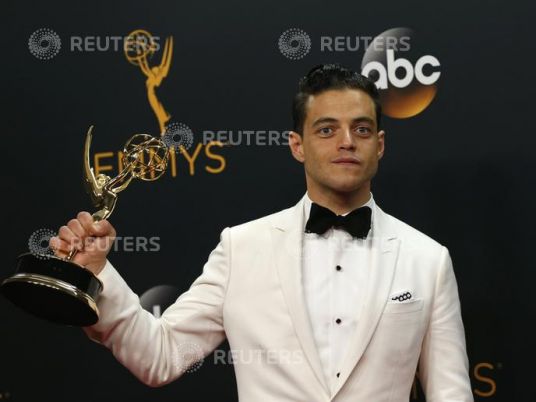 Egyptian-American film and television actor Rami Malek made the big time on Sunday night, winning an Emmy Award for Outstanding Lead Actor for his role in hit TV series "Mr Robot".
Malek has accumulated a massive cult following for his portrayal of hacking aficionado and disturbed anti-hero Elliott Alderson in the USA Network television show, and his efforts were awarded at the 68th Annual Emmy Awards.
Malek's career saw him playing small or medium roles in films such the "Night at the Museum" series, "The Master", "Larry Crowne" and "Short Term 12". He has appeared mainly in supporting roles on TV, in shows such as a "24", "Medium" and "Gilmore Girls", as well appearing in a recurring role on "The Pacific", for which he was praised for his performance.
"Mr. Robot" is Malek's first big break, portraying a laconic young hacker who is (needless to say) very good at what he does, but tortured by the world he lives in. The controversial subject matter combined with Malek's performance brought a lot of attention to the show, which will finish its second season later on this month.
Malek won in the same category that has previously honored many of television's favorite anti-heroes, such as James Gandolfini for "The Sopranos", Bryan Cranston for "Breaking Bad" and Jon Hamm for "Mad Men", among many others.
"Mr. Robot" was created by fellow Egyptian-American Sam Esmail, who Malek describes as a "pure visionary" while accepting his award.
"I play a young man who is, I think, like so many of us, profoundly alienated. And the unfortunate thing is I'm not sure how many of us would like to hang out with a guy like Elliot. But I want to honor the Elliots, because there's a little bit of Elliot in all of us, isn't there?" said Malek while accepting his award.
In August, USA Network announced that "Mr. Robot" would be back for a third season set to air next year.