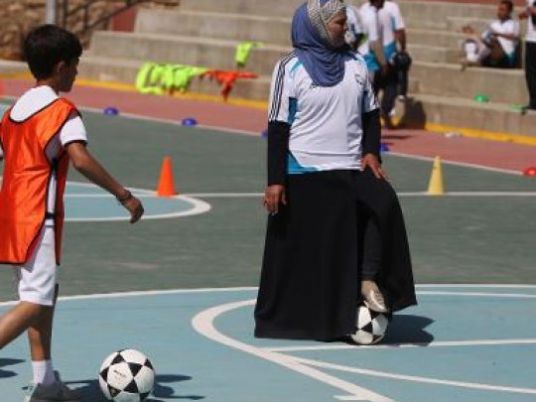 Hundreds of Palestinian children on Monday attended a football training session given by Spanish giants Real Madrid in the West Bank, as part of a charitable project organised through the UN.
The Real Madrid Foundation sent professional coaches to the Palestinian territories for three days of training with children at schools run by the United Nations Palestinian refugee agency UNRWA.
Suma Abdelrahman, a young teenager, was enthralled after taking part in a session organised in Ramallah.
Having been granted permission by Israel to come from the blockaded Gaza Strip for training, she proudly sported her black Real Madrid replica shirt, with the name of Spanish defender Sergio Ramos on the back.
"In Gaza we live in a restricted society, and girls don't really play football. But the Real Madrid Foundation and their programme have allowed girls to get more involved," she said.
"I will take what I've learned in the West Bank back to Gaza."
But in a reminder of the daily struggle experienced by Gaza's residents, a number of Suma's teachers who wanted to take part were not allowed to leave the besieged Palestinian coastal territory.
Israel controls two of Gaza's crossings and Egypt controls a third.
The Strip suffered from a bloody 50-day war last year between Israel and Islamist movement Hamas that killed more than 2,200 people, left 100,000 homeless and permanently disabled some 1,000 children, according to the UN.
Some 500 children from Gaza travelled for the Real Madrid training, UNRWA said.
"This second edition of the Social Sports Schools programme will welcome 1,100 students — 600 in the West Bank and 500 in Gaza — expanding its impact to more children who do not have access to out-of-school activities," it said in a statement.
The Real Madrid Foundation provided them "an alternative leisure activity, and… a space where they can escape the reality of poverty and violence in their lives," UNRWA said.