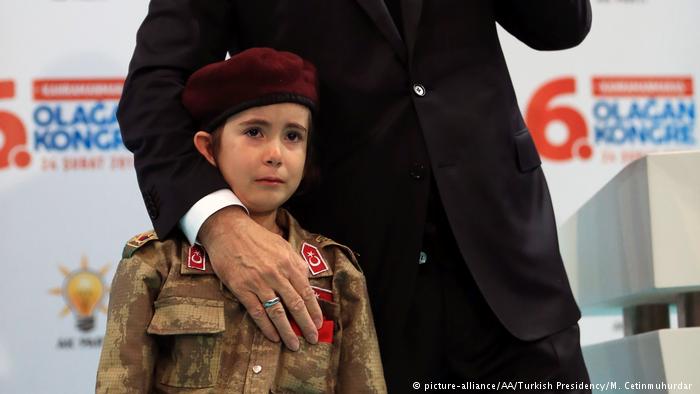 At a conference for Turkey's ruling Justice and Development party (AKP) over the weekend, President Recep Tayyip Erdogan beckoned a girl in a military-style uniform to join him on the stage. "Would you like to become a martyr?" he asked the six-year-old. When the child — probably because of stage fright — burst into tears, he reprimanded her, saying: "Soldiers don't cry." And then he added: "If you die in combat, we will cover you with a flag."
Erdogan's remarks, made on February 24 in the southeastern Anatolian city of Kahramanmaras, provoked strong reactions on social media, particularly Twitter. "A state should not exist to have children killed, but to enable them to lead a good life," said one user.
Another drew attention to the difficulties children in Turkey face: "Child brides, child bodies, child abuse, child martyrs. This is not a country, it's a trap for children."
User @GaziCaglar said he was appalled to see children abused for political purposes: "There are a thousand ways of abusing children. One of the most disgusting is autocrats using children for their political performance with the parents' blessing. There's a group of voters which will find its place in history as the protectors of child abuse."
Children as propaganda tools
This is not the first example of children in Turkey being used as propaganda tools. One day prior to Erdogan's maligned appearance at the AKP conference, state broadcaster TRT published a video message on its website delivered by a boy roughly six years of age named Isa.
"My father is fighting along with his friends within the ranks of the Free Syrian Army against the separatist terrorist organization, the PKK, shoulder to shoulder with Turkish soldiers," the little boy says, referencing the Kurdistan Workers' Party, or PKK. "I thank the president, who is like a grandfather to me. That I can go to school and live in safety, I owe to God, and then to him. May God reward him, and the Turkish nation."
The video ends with the boy joined by another child, looking at images showing his uniformed father on a laptop.
Lawyer Seda Akco Bilen, who specializes in children's rights, told DW that Turkey is a party to several international agreements protecting the rights of children, and the government's behavior should reflect that.
"They stipulate that children have to be kept away from all kinds of armed conflicts and are not to be recruited," she said. "However, since those agreements are, sadly, not adhered to, children become the greatest victims of wars. For them, nothing is more dangerous than war. Therefore, it is every adult's duty to keep children away from war and its repercussions, even if there are no pertinent accords."