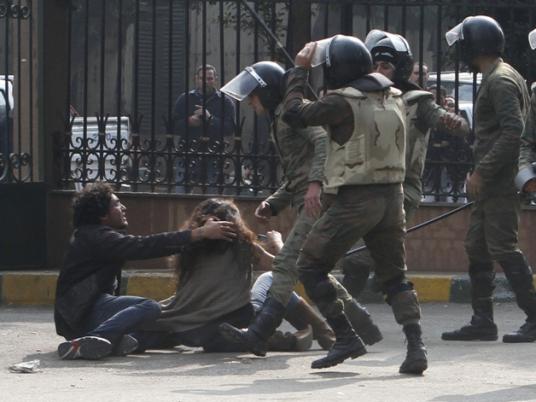 Almost a year after the 25 January revolution and its central call for an end to police abuses in Egypt, human rights defenders have never been busier.
The past year saw at least one major confrontation per month between protesters and security forces — both army troops and riot police. In addition to the dead and wounded, tens and sometimes hundreds of protesters were arrested at each of these incidents, and hauled before military courts, where hefty prison sentences were summarily issued to protesters and others rounded up arbitrarily.
As the country prepares for its first post-uprising parliament and the ruling Supreme Council of the Armed Forces (SCAF) invites Egyptians to Tahrir Square for January 25 festivities, lawyers see little to celebrate.
2011 ended with a brutal army crackdown on protesters, and lawyers from the Egyptian Front for the Defense of Protesters (EFDF) are still picking up the pieces.
At a press conference held at the Hisham Mubarak Law Center (HMLC) on Sunday, Basma Zahran, a lawyer with the Nadim Center for the Rehabilitation of the Victims of Violence presented the tally: 19 people were killed, 750 people injured and 250 arrested during the four-day clashes that began in the early hours of December 16 after a participant in a sit-in outside the cabinet building in downtown Cairo was violently beaten by army soldiers.
Seventy minors aged 14 to 18 were among those rounded up, but have now all been released. Of the 250 arrested, 100 remain imprisoned. Three defendants were tried in military courts. Of these, two were released, and one, Mohanned Abdel-Meneim remains in custody.
High-profile defendants have recently been added to the list of those targeted by the authorities. Activist Nawara Negm was summoned for questioning in connection with the bizarre charges of "deluding public opinion" and inciting violence against the military, although the latter charges were later dropped.
Another activist, Ahmed Douma was remanded in custody for 15 days on Friday during investigations into allegations that he sponsored violence against security forces in December. Politician Ayman Nour, meanwhile, was questioned last week on charges of incitement in connection with the cabinet clashes, prompting him to ask reporters, "Is there no one else but me in this country?"
Nour, an outspoken opponent of the Mubarak regime, was imprisoned in 2005 on what were considered false and politically motivated charges of forgery. His resurrection as a target perhaps gives credence to activist allegations that rather than marking the dawn of a new beginning, nothing significant has changed since 11 February 2011, with the state using the same tactics to silence its opponents.
HMLC director Ahmed Raghab goes further, suggesting that violations since February 2011 are worse than those that took place before. "There is no comparison between Mubarak's era and now, when repressive measures such as torture and military courts are systematically being used," he says.
"The cabinet clashes weren't the first serious human rights violation to take place, and they won't be the last. They are a continuation of all the previous incidents that took place in 2011," Raghab told the press conference on Sunday.
HMLC lawyer Ahmed Heshmet spoke wearily of public prosecution office obfuscation — and aggression — towards EFDP lawyers. "They regard us as lawyers defending the devil," he said.
Both Zahran and Heshmet allege that they have witnessed district attorneys and investigating judges grill defendants on their political convictions and motivations for taking part in the protests. Zahran also described seeing police officers present while defendants were being questioned — in violation of the law.
Perhaps the most egregious violation committed during the clashes, however, was the public prosecution office's denial of medical care to defendants in its custody.
Physician Mostafa Hussein was among the doctors who volunteered to offer medical care to defendants detained at the South Cairo prosecution office during the clashes in December. After waiting an hour for permission to enter the building, Hussein saw a 56-year-old man with a head injury and broken nose.
"I asked the lawyers to tell the prosecution that I wanted him to do a CT scan and x-ray on his nose, but this never happened. After I finished, I saw about seven or ten other men, including two children aged 15. One man needed a chest x-ray, because I think one of his ribs was broken. Almost all of them had signs of beatings and injury. Many had classic tramline marks on their backs and shoulders that can only be caused by sticks," Hussein said.
None of the defendants received the further medical care Hussein advised they be given.
After one of the defendants, Ahmed Mohy, died in police custody as a result of his injuries, lawyers staged a sit-in at the building, demanding that 28 defendants in urgent need of medical care be transferred to hospital.
The 28 men were eventually sent for medical care, but intransigence on the part of hospital staff compounded problems for the relatives of the injured and deceased, according to Mina al-Masry, a lawyer with the Association for the Freedom of Thought and Expression.
Masry describes the difficulties relatives have had in obtaining accurate medical reports from hospitals documenting injuries — a hangover from the Mubarak era, when hospital administrations were reluctant to produce reports implicating security forces in wrongdoing.
Masry gave the example of a victim who has suffered both a bullet wound and a broken leg. "The hospital will record the leg injury but not the bullet wound," Masry said.
Lawyer Heshmet told Egypt Independent that the same tactics of intimidation used by the Mubarak regime are still being employed. He pointed to the experience of doctors at Tahrir Square field hospitals, who describe being followed and intimidated by security forces. He also describes the arrest of his client Tareq Shams, detained at the beginning of this year following the appearance of a video on Youtube showing him next to the burning Scientific Institute, which housed rare books and manuscripts, and which was set alight during the clashes.
After being remanded in custody pending investigation on five charges levelled against him, Shams disappeared for six days in the prison system. His relatives were eventually able to visit him in Tora Prison last week.
Shaymaa Omran described a similar experience at the press conference.
Her brother Mahmoud, a fourth-year law student, was arrested in Tahrir Square and taken to Abdeen police station. However, police station officers denied that he was in their custody.
She also alleges that when Mahmoud was eventually brought before the public prosecution office, he was questioned in the presence of a police officer, Karim Ezzeddin, in violation of the law.
Like EFDP lawyers, Shaymaa Omran was critical of the way public prosecution officials handled the cabinet clashes case.
"They talk about secrecy of investigations to lawyers, while at the same time the press publishes information about these investigations — including defendants' photographs — and alleges that defendants are all unemployed thugs," Omran said.
"The real criminal is whoever negligently allowed our history to burn so that they could use it as a pretext for arresting protesters."