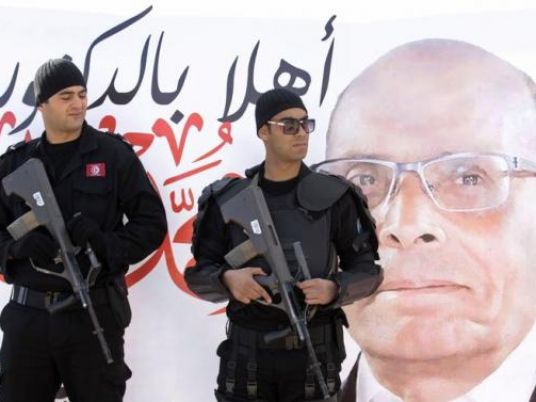 Tunisian police fired teargas on Monday in a southern city to disperse hundreds of youths who burned tyres and blocked streets to demonstrate against an official from the old guard who declared he had won Sunday's presidential vote, residents said.
The protests in Hamma erupted after veteran politician Beji Caid Essebsi declared victory in Sunday's run-off, seen as the last step in Tunisia's shift to full democracy four years after an uprising ousted autocrat Zine El-Abidine Ben Ali.
Critics of Essebsi, an 88-year-old former parliamentary speaker under Ben Ali, see his return as a setback for the 2011 uprising that ousted the veteran ruler and put the North African country on the road to full democracy, with a new constitution and free parliamentary and presidential elections.
Official results will be announced at 2:00 p.m. and his rival, the incumbent president, Moncef Marzouki, has refused to concede defeat, saying he would wait for the electoral authorities to make their results public.
"Hundreds of angry youths upset over Essebsi's victory declaration set fire to tyres in the streets of the city while police fired teargas and arrested several youths," Ammar Giloufi, a local resident, said.