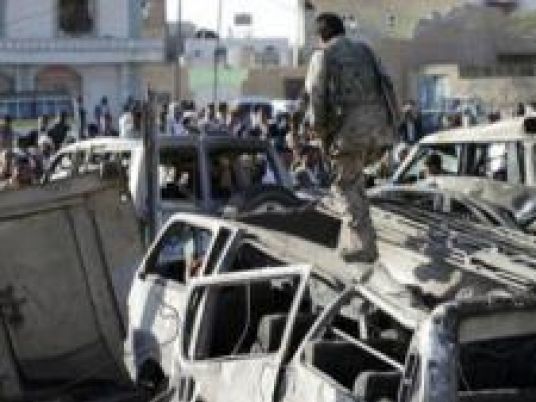 An explosion at a dairy factory in Yemen's Hodaida port killed at least 25 workers, medical sources said, with conflicting accounts attributing the blast to an air strike by a Saudi-led alliance or to a rocket landing from a nearby army base.
The incident would appear to be one of the biggest cases of civilian deaths since a Saudi-led coalition began an air campaign against Houthi militia on March 26.
The 26September website of Yemen's factionalised army, which mostly sides with the Houthis, said 37 workers were killed and 80 wounded at the dairy and oils factory "during the aggressive air strikes which targeted the two factories last night."
Medical sources in the city said 25 workers at the plant had been killed at the factory, which was located near an army camp loyal to former President Ali Abdullah Saleh, a Houthi ally.
Residents and witnesses contacted by Reuters said the air strikes had targeted the factory shortly after midnight on Wednesday. Others said rockets fired from the base – possibly as retaliation against the bombings – hit the factory.
The operation by Saudi Arabia and other Sunni Muslim states aims to prevent the Houthis and former Saleh from winning control of the country. They instead want to reinstate Saudi-backed President Abd-Rabbu Mansour Hadi.
Air strikes overnight hit Houthi positions along the Saudi border in Yemen's far North, an army bases in the central highlands, air defence infrastructure in the eastern Marib province, and a coast guard position near Hodaida.
After the week-long campaign targeting Houthis and forces loyal to Saleh, the coalition has failed to secure Hadi's control over his last remaining enclave in the southern port of Aden a key aim of the campaign.
Indian nationals evacuated
The sound of gunfire and several large blasts were heard in Aden throughout the night, a Reuters reporter said. Videos posted online, whose authenticity Reuters could not immediately confirm, appeared to show fighting at an army base loyal to Saleh in the northeast of the city.
A raid at a coastal defence station at Maidi port in Hajja province north of Hodaida killed six soldiers, workers there said, while further strikes hit an army camp in Sanaa and a government facility in Saadeh in the north of Yemen.
In New York, UNICEF said late on Tuesday that at least 62 children had been killed and 30 wounded in fighting over the past week, and the United Nations said an attack on a refugee camp in northern Yemen, which medics blamed on an air strike, broke international law.
An Indian naval patrol boat picked up nearly 350 Indian nationals from the port of Aden on Tuesday night, and was expected to arrive in Djibouti during the day, a spokesman for the Ministry of External Affairs said.
More than 4,000 Indians – more than half of them nurses – are believed to have been in Yemen when Saudi Arabia launched air strikes last week.
Negotiations are under way to allow evacuation flights into Sanaa, where the Indian community is concentrated, and receive permission to evacuate more from Hodaida, the spokesman said.