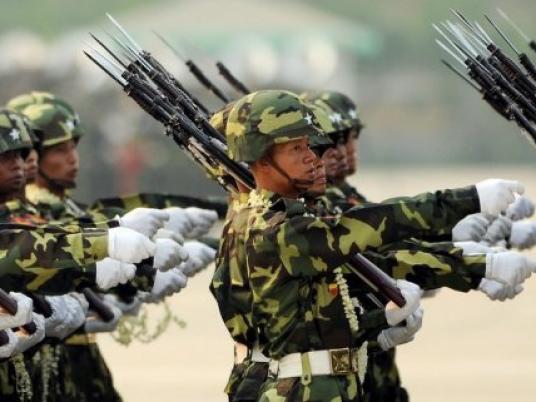 Myanmar troops have committed serious rights abuses against civilians in an offensive against ethnic rebels that has forced tens of thousands to flee their homes, Human Rights Watch said Tuesday.
Fighting erupted in June 2011 between the military and the Kachin Independence Army (KIA) in an area of Kachin state surrounding controversial Chinese-backed hydropower projects, shattering a 17-year cease-fire.
Since then, Human Rights Watch said, at least 75,000 people had fled their homes and were in desperate need of food, medicine and shelter in the mountainous far north of the country formerly known as Burma.
In its report titled "Untold Miseries: Wartime Abuses and Forced Displacement in Burma's Kachin State," villagers tell of soldiers attacking their communities, looting homes and torturing and raping civilians.
One man who was forced to work as an army porter for three weeks said he had witnessed repeated rapes.
"At that place, on that night, those two women had to sleep with all the officers. … They all raped them. … I couldn't count them all. They all raped them. They were doing it in front of us," he said.
Others recounted being threatened by soldiers following mortar attacks on their villages.
"They said that we villagers are KIA, and that the KIA are villagers, and that's why they shot at us. The Burmese soldiers said for us not to cross a certain area or they'll shoot us," a 40-year-old Kachin woman told the New York-based rights group.
The report also detailed abuses by rebel fighters, with both sides accused of using child soldiers and landmines.
HRW Asia deputy director Phil Robertson said the report "should be taken as a warning" by those hoping Myanmar was set on the road to reform.
"We should recognize also that this is a long process, in terms of reform, and that in fact Burma has in our view barely begun to make the reforms needed to transition from military dictatorship to civilian democratic rule," he told a news conference in Bangkok to launch the report.
"You can't characterize something as great progress when you just started from zero and you're only part-way there," he said.
Since the resumption of hostilities, the rights group said some 45,000 had fled to KIA-controlled areas near the Chinese border and another 10,000 escaped into China, with most living in improvised camps. Some 20,000 fled to government-controlled areas.
Human Rights Watch accused the government of blocking humanitarian aid, saying it had allowed UN agencies to visit KIA-controlled areas just once, in early December. It said rebels had also refused aid deliveries.
Consultant Matthew Smith, who carried out the research, said Chinese-backed hydropower projects in Kachin were "definitely a factor in this war" which erupted with fighting near the Chinese-backed Taping dam last year.
"These issues definitely factor into the conflict as do the Burma-China oil and gas pipelines which are passing through northern Shan state, through what the Kachin refer to as the Kachin sub-state," Smith said.
"All these projects are definitely factors in the economic dimensions of the war," he said, adding that others included the jade trade and "fairly lucrative" trade routes into economic powerhouse China.
The new government, which took power last year ending five decades of military rule, has signed peace deals with rebel groups in an effort to end a civil war that has gripped parts of Myanmar since its independence in 1948.
An end to the conflicts and alleged rights abuses by troops is a key demand of Western nations which have imposed sanctions on the regime.