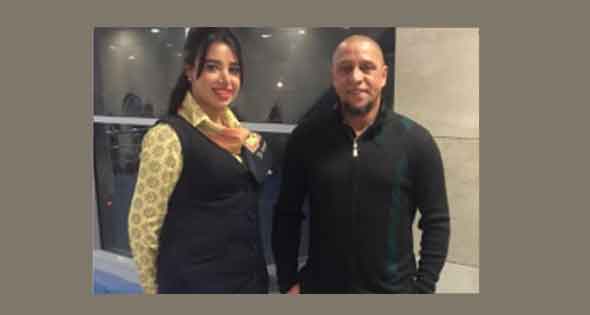 football legend Roberto Carlos arrived at Cairo International Airport on Thursday an EgyptAir flight incoming from Madrid, to participate in one a medical tour as part of the campaign "A World Free of Hepatitis C 2020," reported Youm7.
Carlos was met by Egypt Air's general relations staff upon his arrival in the city.
The Brazilian footballer participated on Friday in a medical envoy in the Hagana District under the auspices of the health ministry, the 'Long Live Egypt' initiative, and pharmaceuticals company Prime Pharma.
The campaign aims to spread awareness by encouraging the early discovery of Hepatitis C, by touring Egypt and providing free diagnosis and medication. It also portrays Egypt as a favorable medical tourism destination for those who seek Hepatitis C treatment while enjoying a relaxing vacation.
Saturday will mark the fourth day of the campaign which began on Wednesday, when more than 224 portable clinics began roaming Egyptian cities to provide diagnosis and free medication for citizens.
This is not the first time Egypt has tried to market itself as a favorable destination for Hepatitis C patients. In 2017, Egypt conducted a "Tour n Cure" campaign which featured Barcelona and Argentine footballer Lionel Messi. The Campaign encouraged people with Virus C to visit Egypt for cheap medication as well as an opportunity to enjoy a holiday.
Egypt has the highest rate of Hepatitis C in the world. It first surfaced in Egypt in the 1950s due to unsterilized injections. The highly-infectious blood-borne virus kills an estimated 40,000 Egyptians a year, and at least 1 in 10 of the population aged 15-59 is infected, according to the World Health Organization (WHO).
In 2016, Egypt discovered a cure for Hepatitis C called 'Zepter'. It was approved by the US Food and Drug Administration (FDA), and since its discovery, the low-cost drug has attracted several Hepatitis C patients from all around the world to get treatment.
Egypt recently initiated a new strategy to campaign for medical tourism: In February, the country announced it will be building its first therapeutic entity to boost its medical tourism.