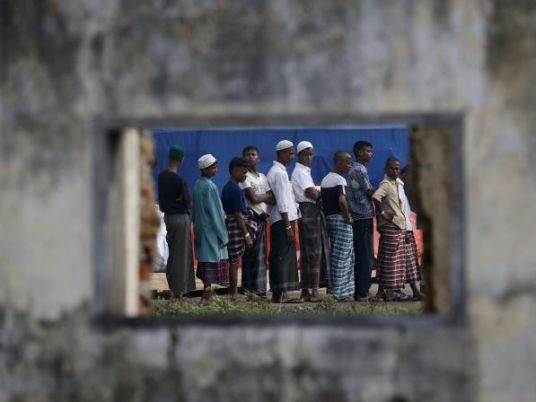 Myanmar has subjected Rohingya Muslims to long-term discrimination and persecution that amounts to "dehumanizing apartheid," Amnesty International said Tuesday in a report that raises questions about what those who have fled a violent military crackdown would face if they returned home.
Since late August, more than 620,000 Rohingya have fled Myanmar's Rakhine state into neighboring Bangladesh, seeking safety from what the military described as "clearance operations." The United Nations and others have said the military's actions appeared to be a campaign of "ethnic cleansing," using acts of violence and intimidation and burning down homes to force the Rohingya to leave their communities.
UN Secretary-General Antonio Guterres said earlier this month that the world body considered it "an absolutely essential priority" to stop all violence against the Rohingya and allow them to return to their homes. They are now living in teeming refugee camps in a Bangladesh border district, and officials in Dhaka have also urged that Myanmar allow them to return with their safety assured.
Myanmar leader Aung San Suu Kyi said Tuesday the government would follow a formula set in a 1992-93 repatriation agreement between Bangladesh and Myanmar, which are holding bilateral negotiations on the new refugee crisis.
Amnesty International compiled two years' worth of interviews and evidence in its report, detailing how Rohingya lived within Myanmar, where they were subjected to a "vicious system of state-sponsored, institutionalized discrimination that amounts to apartheid," meeting the international legal definition of a crime against humanity.
Rohingya Muslims have faced state-supported discrimination in the predominantly Buddhist country for decades. Though members of the ethnic minority first arrived generations ago, Rohingya were stripped of their citizenship in 1982, denying them almost all rights and rendering them stateless. They cannot travel freely, practice their religion, or work as teachers or doctors, and they have little access to medical care, food or education.
Amnesty's report said the discrimination had worsened considerably in the last five years.
"I wanted to go to Sittwe hospital for medical treatment, but it's forbidden," Abul Kadir, 36, was quoted as telling the human rights group. "The hospital staff told me I couldn't go there for my own safety and said I needed to go to Bangladesh for treatment. It cost a lot of money."
Rohingya have fled en masse to escape persecution before. Hundreds of thousands left in 1978 and again in the early 1990s, though policies subsequently allowed many to return. Communal violence in 2012, as the country was transitioning from a half-century of dictatorship to democracy, sent another 100,000 fleeing by boat. Some 120,000 remain trapped in camps outside Rakhine's capital, Sittwe.
Rohingya were thought to number around 1 million people in Myanmar until late last year. That October, a Rohingya militant group killed several officers in attacks on police posts, and the military retaliation sent 87,000 Rohingya fleeing. A larger militant attack on Aug. 25 killed dozens of security forces, and the military response was swift and comprehensive.
By the tens of thousands, Rohingya began fleeing, their villages set aflame, some of the survivors bearing wounds from gunshots and land mines. Though the waves of refugees are now thinner, people are still crossing the Myanmar border nearly three month later.
Suu Kyi in her remarks Tuesday was hopeful a memorandum of understanding could be agreed upon soon to allow for the safe, voluntary return of people who fled to Bangladesh. She did not call them Rohingya, a name shunned by many in Myanmar who believe they are illegal immigrants.
Amnesty International's report cautioned that economic development of Rakhine should not be a tool of further discrimination. Myanmar has supported an international expert panel's recommendations on developing the impoverished state, but the same report urged Myanmar to grant citizenship and ensure that other rights of Rohingya were protected.
Foreign ministers and representatives of 51 countries began a meeting in Naypyitaw, Myanmar's capital, on Monday in a forum that aims to further political and economic cooperation but takes place against the backdrop of the refugee crisis.
"The international community must wake up to this daily nightmare and face the reality of what has been happening in Rakhine State for years," said Anna Neistat, Amnesty International's Senior Director for Research. "While development is an important part of the solution, it cannot be done in a way which further entrenches discrimination. The international community, and in particular donors, must ensure that their engagement does not make them complicit in these violations."