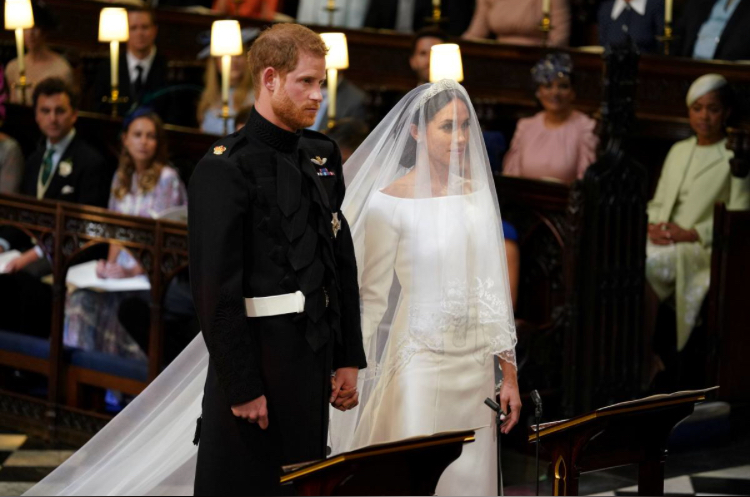 Prince Harry told the Archbishop of Canterbury he would take Meghan Markle to be his wife at a glittering display of royal pageantry that supporters hope will inject a measure of modern Hollywood glamour into the 1,000-year-old monarchy.
"I will," Harry answered when asked by Justin Welby, the leader of the Anglican Communion, if he would take Markle – dressed in a flowing white gown created by British designer Clare Waight Keller – to be his wife, to love her, comfort her, honor her and protect her.
The declarations are being followed by a reading and the address, delivered by black U.S. bishop Michael Bruce Curry.
The couple then give their vows, exchange rings – a Welsh Gold ring for Markle and a platinum band for Harry – before the archbishop proclaims them husband and wife.
After entering St George's Chapel unescorted, Markle made her way towards the Quire, halfway down the church where Prince Charles walked her to his son, Harry.
White roses, favorite flowers of Harry's late mother Princess Diana, adorned the chapel. Markle's mother, Doria Ragland, 61, appeared tearful.
Prince Harry was dressed in a military frock coat uniform as was his brother, best man Prince William. Earlier Queen Elizabeth and Prince Philip arrived by car.
Tens of thousands of fans lined the route Markle took towards the castle, waving British flags and cheering as the Rolls-Royce limousine drove past with the bride and her mother.
Air traffic controllers for the nearby Heathrow Airport, one of the world's busiest, said the air space over Windsor was being closed for 15 minutes before the ceremony.
Hours before, Elizabeth bestowed the title of Duke of Sussex on her grandson, a step that means the American actress, star of the TV drama "Suits", will become a duchess when she marries Harry.
Under clear skies and glorious sunshine, a military band in scarlet uniforms and bearskin hats entertained excited fans gathered behind barriers. Police armed with semi-automatic rifles patrolling streets and watching from rooftops.
"It's absolutely incredible. The atmosphere here is just going to be crazy when Meghan turns up. I'm so pleased to be here," said Charlotte Field, 21, one of 1,200 people invited into the grounds of the castle for the wedding.
A host of guests were present. U.S. media mogul Oprah Winfrey and actor George Clooney and his wife Amal were joined by former soccer star David Beckham, his fashion designer wife Victoria and James Corden, the British host of the American TV chat show "The Late Late Show".
Other guests included tennis ace Serena Williams, the siblings of Harry's late mother Princess Diana, singer Elton John, who sang at Diana's 1997 funeral, British actor Idris Elba, and two of Harry's ex-girlfriends.
"This is a moment when we can all celebrate the rebirth of the royal family," said Kenny McKinlay, 60, who had come down from Scotland for the wedding. "It's a time when all the nation can come together rather than being divided. It's a day when you can be proud to be British."
The couple, who met on a blind date in 2016 and fell in love in a tent under the stars in Botswana, will tie the knot at the 15th-century St George's Chapel, in a castle that has been home to 39 English monarchs since 1066.
More than 100,000 fans are expected to cram the narrow roads of Windsor, about 20 miles (30 km) west of London. Visitors had to pass through police search points set up around the castle.
Hundreds of TV crews from around the world were present for the union of Harry, 33, sixth-in-line to the British throne, and Markle, 36, a divorcee whose mother is African-American and father is white.
To some Britons, the wedding embodies a more modern Britain where race or background are no bar to even the most elite and traditional of institutions.
To others, it is an irrelevance or mild distraction from the schism of Brexit, which has deeply divided the United Kingdom; polls suggest that most Britons will not bother tuning in.
Markle's own father Thomas Markle, 73, a former lighting director for TV soaps and sitcoms, pulled out of the ceremony this week, telling the U.S. celebrity website TMZ he had had heart surgery on Wednesday.
Confusion over his attendance marred the build-up to the wedding, which had been choreographed for months by royal aides, and his name still appears in the order of service.
The service will be conducted by the Dean of Windsor with Justin Welby, Archbishop of Canterbury and spiritual head of the Anglican Church, overseeing the exchange of vows.
A black U.S. Episcopalian bishop, Michael Bruce Curry, will give the wedding address, while Lady Jane Fellowes, Diana's sister, will deliver the reading.
NO VOW TO OBEY
Prime Minister Theresa May, who along with other politicians was not invited to the wedding, sent good wishes to the couple, adding: "To all of those joining the national celebration with street parties and other events, have a wonderful day."
In departures from royal custom, Harry will wear a ring – a platinum band – while Markle will not vow to obey her husband. Her wedding ring is made from Welsh gold, given by the queen.
In among traditional hymns, a choir will perform American soul singer Ben E. King's 1960s hit "Stand by me".
After the ceremony, the newlyweds are expected to greet some of the 1,200 members of the public invited into the castle grounds before starting a carriage procession through Windsor.
A reception will be held in the castle's St George's Hall before 200 guests join the couple at an evening event at the nearby Frogmore House mansion.
The newlyweds will carry out their first official engagement as husband and wife next week.
The British remain broadly supportive of the monarchy, albeit with a sense of mild irony about the pomp and pageantry that accompanies it, though most have deep respect for Queen Elizabeth after her 66 years of service as head of state.
Harry, along with brother William and his wife Kate, are at the forefront of efforts to modernize the monarchy by talking openly about their feelings.
"It is patently obvious – the more you say, the more you can be examined," said royal historian Hugo Vickers. "Everything moves on gradually – but there are certain risks, and there is a lot to be said for maintaining the mystique."