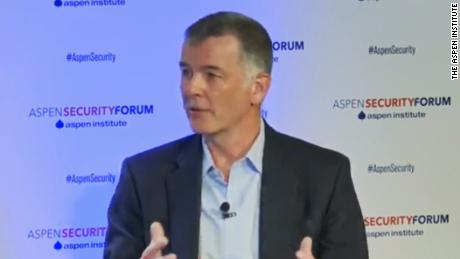 British spy chief Richard Moore has said Russia is "about to run out of steam" in Ukraine, in an interview with CNN's Jim Sciutto.
"Russians will increasingly find it difficult to supply manpower, material over the next few weeks. They will have to pause, and that will give Ukrainians an opportunity to strike back," Moore, chief of MI6, said in the interview, his first outside of the UK.
"(Putin) has suffered a strategic failure in Ukraine," and forces have lost 15,000 lives, Moore said on the sidelines of the Aspen Security Forum, adding that it's "probably a conservative estimate."
However, Moore said it is very important for Ukrainians' morale to demonstrate their ability to strike back.
"It will be an important reminder to the rest of Europe that this is a winnable campaign by the Ukrainians. Because we are about to go into a pretty tough winter."
"Winter is coming and clearly, in that atmosphere with the sort of pressure on gas supplies and all the rest, we are in for a tough time," Moore added.
He said that following Russia's invasion of Ukraine, European countries have taken concerted effort against Russian intelligence.
"North of 400 Russian intelligence officers working under diplomatic cover have been expelled," and it has reduced Russian ability to spy in Europe by half.
When asked about rumors of Putin's ill-health, Moore said: "There is no evidence that Putin is suffering from serious ill-health."
His comments came after the expulsion of more than 400 Russian intelligence officers from cities across Europe and the arrest of several deep-cover spies posing as civilians.
Moore told CNN that since Russia invaded Ukraine in February, European countries have expelled "north of 400 Russian intelligence officers operating under diplomatic cover" across the bloc.
"And we reckon, in the UK, that has probably reduced their ability to do their business to spy for Russia in Europe by half," Moore said. He added that a number of "illegals," or Russian spies operating under deep cover and masquerading as ordinary civilians, have also been exposed and arrested in recent months.
Asked whether the war in Ukraine has made Russia a "target rich environment" for the UK and its allies to recruit potential assets, Moore would only say that "it is our hope" that Russians in the intelligence and diplomatic services will "reflect on what they are witnessing in Ukraine" and decide to "strike back against the system" as many did during the Prague Spring in 1968.