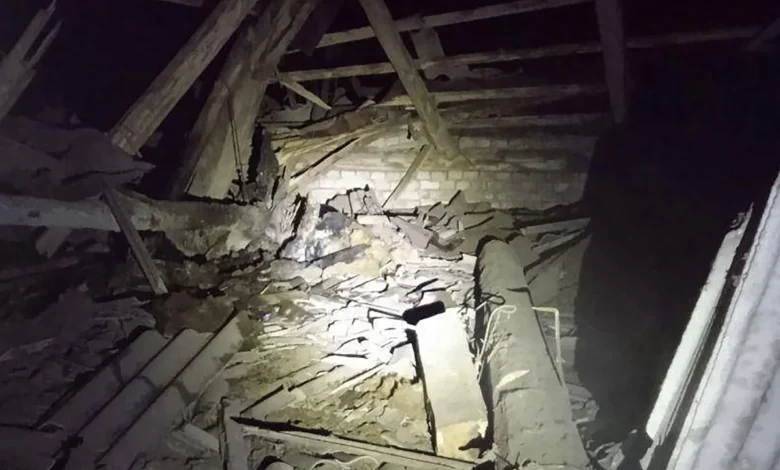 Russia launched its largest drone attack of the conflict yet on Ukraine's capital Kyiv, leaving one person dead and sparking fires across the city.
Ukraine's Ministry of Defence said Russia unleashed 54 Iranian Shahed drones early Sunday – 52 of which were shot down.
But the city's mayor, Vitali Klitshko, said a 41-year-old man died following the attacks, while falling drone debris at a gas station injured a 35-year-old woman.
Kyiv has been targeted several times this month but despite this fatalities are rare. In launching so many drones, Russia may be seeking to overwhelm Ukrainian air defenses.
Falling drone debris also sparked fires in buildings across the capital, Klitshkos aid on Telegram.
A fire spanning 700 square meters (7,534 square feet) had been contained but buildings across an area of 1,000 square meters area were damaged, Klitschko added.
On Sunday, Ukraine's capital is due to mark Kyiv Day, the anniversary of its official founding 1,541 years ago.
The attacks come amid rumors of an imminent Ukrainian counteroffensive aimed at recapturing Russia-controlled territory.
Ukraine's top general hinted the campaign could come soon, saying in a video "the time has come to take back what is ours."
Elsewhere in Ukraine, Russian forces shelled the city of Nikopol with heavy artillery, said Serhii Lysak, head of the Dnipropetrovsk region's military administration.
"The enemy fired again on the civilian population with heavy artillery. The aggressor shelled Nikopol twice during the night, damaging six private houses and two outbuildings," Lysak wrote in a Telegram post.
A gas and main power line were damaged in the attack, but no casualties were reported, according to Lysak.