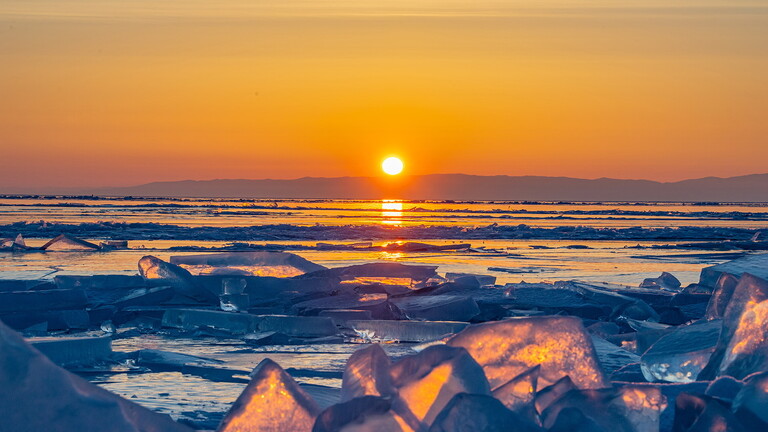 The Russian company Baikal Aqua is preparing to provide the Egyptian market with water extracted from the purest lake in the world located in Russia.
The director of the permanent exhibition of Russian foodstuffs in Egypt, Amr al-Beltagy, told RT that the Baikal company extracts high-purity water from the deepest lake in the world, the Russian Baikal.
The depth of the lake reaches 1500 meters, with water extracted through pipes at a depth of 400 meters below the surface of the lake.
Beltagy explained that after the water is extracted, it is then placed in special tanks to preserve its pure quality. The Russian company wants to be present in Egypt and export to the rest of the region's countries directly or through Cairo. It will also be present in luxury shops and areas all over Egypt.
Lake Baikal in Siberia is no ordinary lake. At 49 miles (78.8 km) wide and 395 miles (635 km) long, it is the largest freshwater lake in the world – and with a history dating back 25 million years, it is also amongst the oldest.
Egypt's water troubles
Egypt suffers from water scarcity and is close to a state of absolute scarcity, with a water deficit of about 21 billion cubic meters per year, and a food gap of more than US$10 billion, Minister of Water Resources and Irrigation, Hani Sweilam, said in his speech during the second day of the Cairo Water Week held in October.
Egypt imports 60 percent of its food, and farmland covers only about 3.5 percent of its area, he said, adding Egypt depends on the Nile River for 97 percent of its water needs.
The impact of climate change in Egypt has various forms including sea level rise, weather temperature rise, and unexpected changes in at in the sources of the Nile, he said.
Sweilam stressed the importance of strengthening cooperation between different countries of the world, especially developing countries to face water challenges at the global level, in addition to seeking to provide the necessary funds for water projects that contributes to achieving UN sustainable development goals.