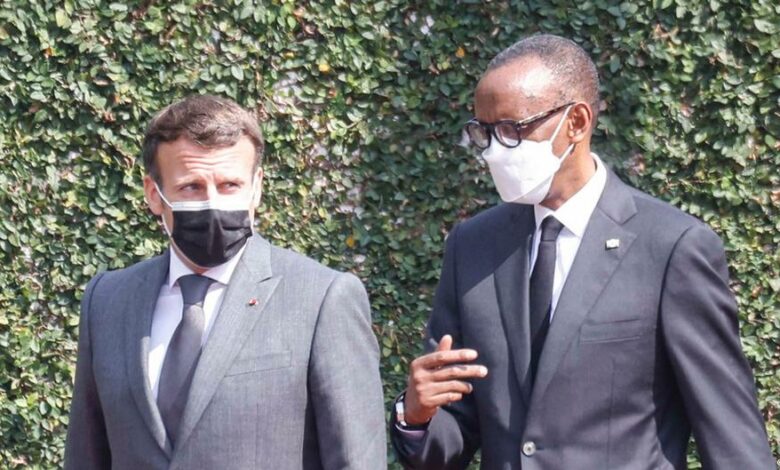 French President Emmanuel Macron admitted French responsibility in the Rwandan genocide, during a visit to the Rwandan capital Kigali on Thursday.
"Standing here today, with humility and respect, by your side, I have come to recognize our responsibilities," Macron said in a speech at the Kigali Genocide Memorial where more than 250,000 Tutsi are buried.
He said that France had a duty to admit the "suffering it inflicted on the Rwandan people by too long valuing silence over the examination of the truth."
Relations deteriorated after the 1994 genocide and Macron is the first French leader to visit the country in ten years.
Macron: France 'not an accomplice'
The French president said only Rwandans could forgive France for its role in the genocide: "On this path, only those who went through that night can perhaps forgive, give us the gift of forgiving."
France did not listen to those who warned it about the impending massacre in Rwanda and stood de facto by a genocidal regime, Macron said.
But France "was not an accomplice" to the genocide, Macron added.
Was it an apology?
Rwandan President Paul Kagame said: "His words were something more valuable than an apology. They were the truth," he told a joint press conference after the two leaders met in Kigali.
Kagame said relations would only strengthen going forward: "France and Rwanda are going to relate much better to the benefit of both our peoples, economically, politically and in terms of culture," he said.
"But the relationship between our two countries will never be entirely conventional. There is a special familiarity resulting from the complex and terrible history we share, for better or for worse," he added.
"We have chosen to make it for the better. We wish to form a strong and sustainable relationship, based on priorities that matter to both Rwanda and France."
Jean Paul Kimonyo, a former aide to President Kagame, said: "I think that speech was a very strong speech because he asked for forgiveness in a subtle manner but in a strong manner. It was subtle but substantively strong."
The Ibuka association, Rwanda's main genocide survivor group, criticized Macron for not giving "a clear apology and not asking for forgiveness.
Egide Nkuranga, the group's president, added that Macron had "really tried to explain the genocide, how it happened, what they didn't do, their responsibilities… It's very important, it shows that he understands us."
Rwandan President Paul Kagame, who has accused France of responsibility in the genocide, earlier said they could "maybe not forget, but forgive" France for its role.
Why are relations between Rwanda and France strained?
Rwanda has repeatedly accused France of being complicit in the 1994 genocide that killed around 800,000 people, mostly Tutsi Rwandans and moderate Hutus.
A report by a French panel released in March said French officials bore "serious and overwhelming" responsibility for not foreseeing the slaughter. It said that a colonial attitude had blinded French officials. The report absolved France of direct complicity in the killings.
President Kagame said the report "meant a lot" to Rwandans.
In 1994, during the Rwandan civil war, then-President Juvenal Habyarimana's plane was shot down, killing him. This led to the genocide that lasted around 100 days.
"French officials armed, advised, trained, equipped and protected the Rwandan government," said the French report. Until now, France has denied a role in the killings.
Not a warm welcome in Kigali
Macron has tried to rebuild relations with Rwanda since assuming power in 2017, culminating in this visit. The last French official visit to the country was when former President Nicolas Sarkozy visited in 2010.
AP news agency reported that the streets of Kigali bore no crowds welcoming the French president with flags, unlike the usual attention that high profile visits receive.
After the visit, Macron is scheduled to visit South Africa.