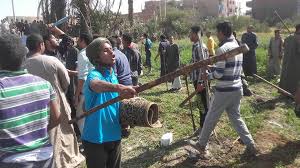 Minister of Youth and Sport Khaled Abd al-Aziz praised on Tuesday the Egyptian football striker Mohammed Salah's performance in the premier league.
"Egyptian sport will be one of the important sources of foreign exchange and support of the Egyptian economy..Long live Egypt,"Abd al-Azizi posted on his Facebook account, after Liverpool demanded 100 million euros to sell salah.
Abd al-Azizi described Salah as "The new emperor" after his brilliant performance with Liverpool and the Egyptian team.
Abd Al-Azizi posted photos of Egyptian figures in all fields, including Salah. "Emperors of Egypt's soft power, Um Kulthum, Naguib Mahfouz, Hasanein Heikal, Magdy Yaqub, Omar al-Sherif, Ahmed Zewail and other great men and women. I add to them the new emperor, Mohammed Salah, Tahya Masr [Long Live Egypt]," he commented.
Salah scored two goals for the Reds against Tottenham on Sunday, in a dramatic game that ended in a 2-2 draw in the league's 22nd round.
Salah, who is part at Egypt's national team, was selected in November 2017 as the 'Best 11 players' who will be part of the World Football Team of the 2018 World Cup qualifiers by the Confederation of the African Football.
Besides his membership of Egypt's national team, Salah is currently servicing as winger at the UK-based football club Liverpool.
Egyptian winger Mohamed Salah is also shortlisted among four others for the BBC African Footballer of the Year.
The choice of Salah was based on his role in pushing Egypt towards the qualifying round of the World Cup that will be held in Russia. This is the first time in 28 years Egypt has qualified for the World Cup.