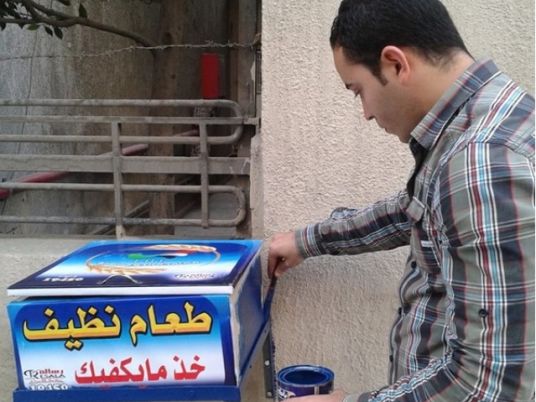 A person crouches beside a garbage heap, rummaging through scattered leftovers in hopes of finding something to eat.
This heartbreaking scene we encounter almost daily in Egypt, as the country woefully lacks a humanitarian solution to the escalating hunger crisis facing the society today. A joint study conducted by the World Food Program and the Egyptian government found that food insecurity had increased to 17.2 percent (13.7 million people) in 2011 compared to 14 per cent in 2009, and continues to rise.
In an effort to provide access to free food for starving people, the idea of the charitable initiative Sandook al-Goo3 (The Hunger's Box) was born.
Adopting the motto "Combating hunger is easy," the initiative aims to install donation boxes in front of restaurants, mosques, and residential buildings across the governorates, where clean, surplus food is provided for the needy.
The project stemmed from a simple idea when 27-year-old engineer Mohamed Abdel Fattah approached the owner of the Alexandria restaurant Abou Rabei, and they agreed to pack up customers' leftovers, and place them in a box in front of its restaurant. The box was labeled with a sticker reading, "Clean food…take what suffices you."
"Surprisingly, the owner welcomed the idea, and he even accepted to have a box in front of each branch," Abdel Fattah said. "Also, some clients were encouraged when they saw the boxes and bought a meal in order to help others."
Following this success, Abdel Fattah felt enthusiastic to implement the idea on a large scale. With the help of three friends, he set up a Facebook page in an attempt to reach out to as many people as possible.
The initiative was met with broad support and many contributed ideas through the page, which helped the team to better achieve their goals.
"Some suggested placing a box in front of their residential building so each apartment donates a meal, and at the end of the day, more than ten meals would be available," Abdel Fattah said.
"We also reached out to mosques where one of the sheikhs urged people in Friday's Khutbah (sermon) to donate the price of the box or some food for our initiative."
Launched in December 2013, the initiative's success is attributed to consistent, systematic efforts. The team constantly puts new ideas on the table and sparks discussions to assure the sustainability of the initiative.
The volunteers are divided into a number of sub-teams; each sub-team holds a distinct set of responsibilities. The follow-up team plays an important role in checking if the hygiene standards of the food and box are met.
So far, the initiative has installed 375 boxes over 11 governorates, including Cairo, Alexandria, Sohag, Mansoura, Ismailia, Port Said, Tanta, Marsa Marouh and Suez.