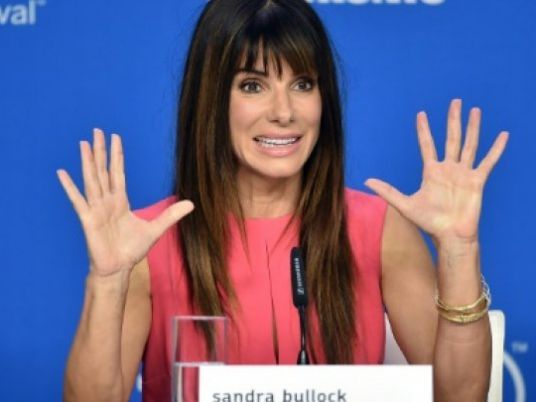 Sandra Bullock, as an American political strategist, plots the defeat of Evo Morales in Bolivia's 2002 presidential ballot in "Our Brand is Crisis," which premiered at the Toronto film festival.
The fictionalized account of the election is based on a 2005 documentary of the same name about how US Democratic Party strategist James Carville helped Morales's opponent Gonzalo Sanchez de Lozada come from behind to beat the frontrunner in the campaign.
In real life, Morales picked himself up and returned a few years later to become Bolivia's first indigenous president, for three terms.
Bullock, who was back in Toronto following last year's blockbuster hit "Gravity," said she asked producers George Clooney and Grant Heslov to consider changing the lead character to a woman for her, and they did.
She noted "an explosion" in the number of meaty female roles in film and television of late. "It's good that we're seeing that change," she said.
On the surface, "Our Brand is Crisis" is a sharp critique of American no holds barred electoral campaigns and candidates who manipulate the truth in order to win.
More broadly it strikes at all deceitful marketing.
"We're shedding a light on a small slice of that world, which happens to be politics, but I think it definitely represents where we are as a culture and where we need to take ownership back and start looking at things for what they are rather than what we're being sold," Bullock said.
Just take a peak "behind the curtain" to discover that "the man behind the curtain is doing some pretty deceptive and manipulative stuff," she said.
At a press conference in Toronto, Clooney said that he once shared an office with Carville, which gave him insights into backroom politics.
But unlike his 2011 political drama "Ides of March" starring Ryan Gosling, he said that he did not intend this film to be a "political statement."
"We're interested in the political process and how you elect officials… but we weren't looking at this as strictly about politics," Clooney said.
"We were looking at this as about the human condition and how we package and sell everything."
Clooney slams Trump
However Clooney, the son of a city councilwoman and a television anchorman, could not resist commenting on the US presidential race. He slammed GOP presidential hopeful Donald Trump over the mogul's derogatory comments about Mexicans.
"What he said is idiotic," Clooney said. "Anybody who says as intolerant words as those should be laughed at."
In June, Trump kicked off his campaign saying Mexican migrants to the United States were mostly criminals, drug traffickers and "rapists," and "some, I assume, are good people."
On Trump's lead in the polls, Clooney said: "Who would have thought that Donald Trump would be at 30 percent, and it ends up working very well for the film, but we're not that good."
The film was directed by David Gorden Green ("Pineapple Express" and "Manglehorn") and also stars Billy Bob Thornton as a rival strategist who is quick to use dirty tricks, as well as Joaquim De Almeida as a former leader far behind in the polls when Bullock's character "Calamity" Jane Bodine arrives on the scene to bolster his campaign.
Peter Straughan ("Tinker Tailor Soldier Spy") penned the screenplay.
The campaign fumbles from fake tears to sabotage and pranks, to outright political lies in order to get an elitist candidate elected in a country whose population is predominantly poor and indigenous.
When Bodine can't soften her candidate's hard image, she manufacturers a crisis that requires the strong proven leadership of her candidate to overcome.
In one scene in which Bullock bares her buttocks (which audiences cheered), campaign buses race up a winding cliffside road in a kind of a metaphor for the campaign. It was also a throwback to Bullock's 1994 film "Speed."
"It felt like home. It felt like I was back to where I began," she said. "I do bus like nobody else."