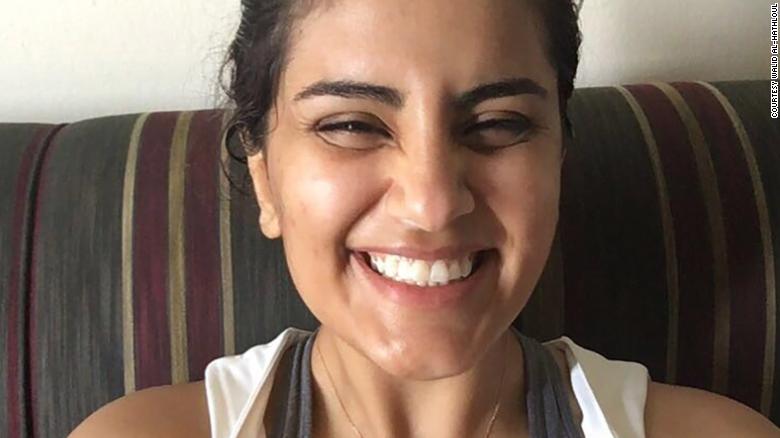 (CNN)–A prominent Saudi activist's admission that she once applied for a job at the United Nations is being used as part of the kingdom's case against her, CNN has learned.
Saudi Arabia has not publicly released the charges against women's rights defender Loujain al-Hathloul, or several other prominent female activists who are currently on trial in Riyadh on charges related to their human rights work.
But in a six-page charge sheet for Hathloul's case, seen by CNN, a section titled "crimes committed" includes activism against the kingdom's restrictive male guardianship laws, along with contact with foreign journalists and diplomats.
The charges rely on a series of alleged confessions, according to the documents, which state that Hathloul confessed to applying for a job at the UN along with confessing to being in contact with the human rights groups Amnesty International and Human Rights Watch.
Hathloul applied to the UN's Young Professionals Programme in 2017, her family members told CNN.
CNN has reached out to the Saudi government on the details in the charge sheet. In the past the kingdom has not responded to repeated requests for information on the charges against the women.
A UN spokesman referred CNN to a UN human rights office statement from June 2018 that called for the release of Hathloul and other detained Saudi human rights defenders.
Hathloul, a well-known activist who fought to end the kingdom's ban on women's drivers, was arrested in March of last year as she was driving down a highway in the United Arab Emirates, where she had been living.
She was then sent back to Saudi Arabia and detained. The 29-year-old was released within days, only to be arrested in another sweep several weeks later that targeted 10 women's right-to-drive activists. Some of those detained were released, but other activists were detained in the weeks that followed the initial arrests.
Activist: 'They respected nothing about who I was'
At a hearing on Wednesday, several activists spoke about the torture they said they endured while in prison, according to two sources briefed on the events.
Western diplomats and journalists were not permitted to attend the hearing, according to Reuters.
Aziza al-Yousef, who is over 70, cried as she spoke about the physical and sexual abuse she said she had suffered in detention, according to the sources. "They respected nothing about who I was," the longtime activist said, according to one source.
The defendants sat at a long table and were joined by their families as they gave tearful testimony through a microphone, said the source.
The father of another defendant, Shadan al-Anezi, broke down in tears after he heard his daughter's account of the alleged torture, said the second source.
On Thursday, Yousef, as well as women's rights defender Eman Nafjan and academic Ruqayyah al-Muharib, were 
temporarily released from custody on Thursday
. The court will continue to hear their cases and the three must still attend hearings, the state-run Saudi Press Agency reported.
During the hearing, Hathloul requested bail and asked for more time to prepare her defense, her brother Walid al-Hathloul told CNN.
Hathloul's family members have previously said she has
reported being physically and sexually abused in detention. During a visit to the prison by her parents, she told them that she was regularly whipped, beaten, electrocuted and sexually abused in a basement she called the "palace of terror," Walid al-Hathloul wrote in a 
CNN opinion piece in January
.
Saudi authorities did not respond to CNN's request for comment on the torture allegations. Riyadh previously denied allegations of torture in a statement to CNN following an initial Human Rights Watch report alleging physical and sexual abuse against Hathloul and other detained female activists in November.
In the courtroom on Wednesday, Hathloul's brother said she handed her parents a short letter she had written to her siblings. "Alia, Yazid, Walid, Najd, Lina, what would I be without you?" it said, with hearts scribbled next to it.
"(It was) heartbreaking (to see the letter)," Walid al-Hathloul told CNN. "I was about to cry. I think I did cry. It touched my heart."
By Tamara Qiblawi, CNN