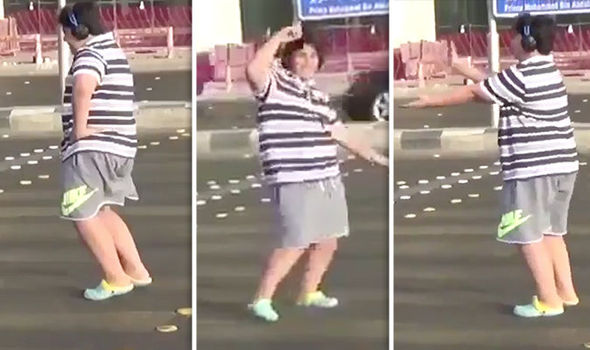 Saudi police arrested a 14-year-old boy who was filmed dancing a popular 90s hit song at an intersection in the Red Sea city of Jiddah, according to local media reports on Wednesday.
The video, which went viral on social media ins the kingdom, shows the boy with head phones and wearing grey sweat shorts, a striped T-shirt and neon green and yellow Crocs on his feet. He is swaying his hips and arms to the song "Macarena," and appears to be smiling and giggling throughout the dance.
The state-linked Sabq news website quoted Col. Aati bin Attiyah al-Qurashi as saying police arrested the young man on Tuesday and were preparing to refer him to prosecutors for disrupting traffic and improper public behavior.
Western music and dancing is taboo in Saudi Arabia, but such incidents in the past have not necessarily led to lengthy imprisonment or serious punishment. The young man may be asked to sign a police form vowing to not disrupt traffic again.
Traditional dance, however, is permitted. Saudi King Salman and US President Donald Trump were filmed taking part in a traditional all-male Saudi sword dance in May when the president visited the kingdom to boost ties.
Saudi Arabia's young heir to the throne, 31-year-old Crown Prince Mohammed bin Salman, has pushed for greater openings for entertainment in the kingdom, including allowing a limited number of musical concerts after a more than a 20-year-ban.
He has also encouraged young Saudis to become more physically active as part of a wide-reaching reform agenda that includes raising life expectancy in the country.