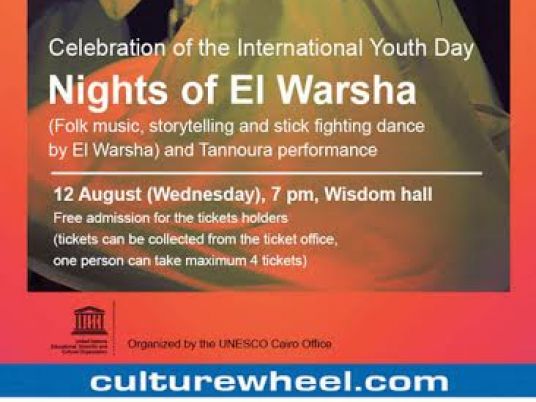 El-Sawy Culture Wheel will celebrate International Youth Day on Wednesday, August 12, 2015.
The event's schedule includes three workshops: photography, storytelling and script writing. Each of these workshops will take place simultaneously between 12 pm and 5 pm.
The opening ceremony willl be attended by representatives from the Youth Ministry and the Higher Education Ministry and they, as well as the director of the UNESCO Cairo office, will give opening remarks at the event.
A tannoura dance will take place from 6:45 pm to 7:15 pm and music, singing, storytelling and stick fight dancing will start at 7:30 pm, ending at 9 pm.
The United Nations General Assembly declared August 12 as the International Youth Day on December 17, 1999.
The 2015 theme for International Youth Day is "Youth Civic Engagement."