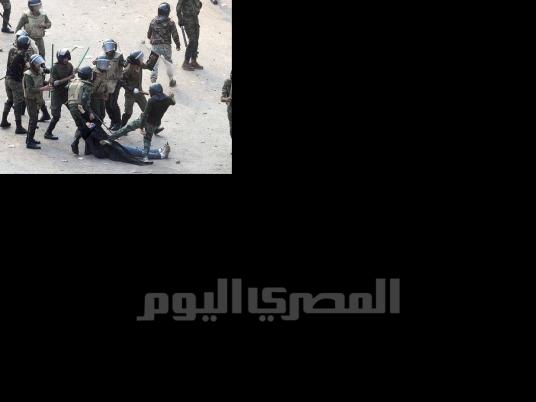 Major General Abdel Moneim Kato, an adviser to the Egyptian military's Morale Affairs Department, continues to make controversial comments on the clashes that broke out last Friday between army forces and protesters near the cabinet building in downtown Cairo.
Kato has said that international law entitles army forces under attack to respond with live fire, London-based Asharq Al-Awsat reported Thursday.
Kato told the newspaper that the Egyptian army pelted attackers with stones, the least deadly weapons available to defend public facilities, though he alleges the Geneva Conventions and international law give them the right to use firearms.
However, the globally recognized agreement was designed to address military forces fighting on battlefields, and does not apply to protesters, Safwat al-Zayat, a retired army general, told Egypt Independent. He criticized military statements, including Kato's, on the recent fighting.
Some 15 people have been killed by security forces and the military since last Friday, some of them shot with bullets.
Kato also told Asharq Al-Awsat that Egypt's armed forces have endured attacks from minors paid to assault the army.
Commenting on a video clip that shows army personnel beating and dragging a female protester in the street ― which has sparked an outcry both in Egypt and abroad ― Kato justified the officers' conduct, saying that the girl had been insulting the army through a megaphone.
Kato also warned that there is an ongoing campaign to target the army, accusing unidentified parties of implementing "foreign agendas" inside the country.
On Monday, Kato had remarked that protesters clashing with soldiers and police near the cabinet should be "thrown into Hitler's ovens."
On Thursday, the Supreme Council of the Armed Forces (SCAF) issued a statement that appeared to be an attempt to distance it from Kato's remarks. Referring to "some commentators and strategic analysts", the statement said: "These comments provoked negative reactions from Egypt and abroad," apparently referring to Kato's more inflammatory remarks.
The statement said that such commentators express their own point of view, not the offical views of the SCAF, which are usually given through official statements or its page on Facebook.