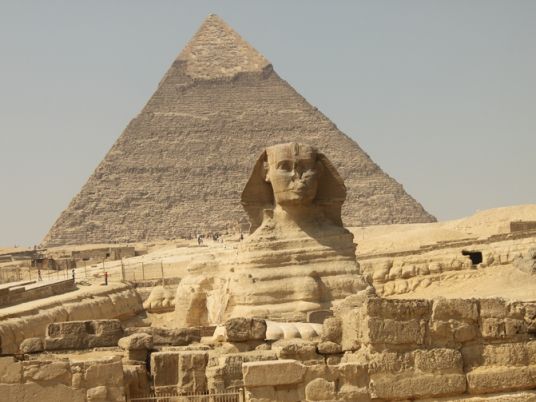 While working on al-Kabbash road in Luxor, construction workers have discovered a mysterious statue with a lion's body and a human's head – believed to be a second sphinx.
The workers were developing a road between the Luxor and Karnak temples – only six miles from the famed Valley of the Kings – when the statue was found.
The statue's lifting has not yet been completed, and will take some time "due to the nature of the environment in which it has been located", Luxor's General Director of Antiquities Mohamed Abdel Aziz told Youm 7.
Although no photos of the statue are public yet, Minister of Antiquities Khaled al-Anani welcomed tourists to the site, encouraging them to visit the new discovery.
The new finding corresponds to a theory among some historians that two sphinxes are complementary in ancient Egypian art: one male, and one female.
In 2017 Gerry Cannon and Malcolm Hutton, British proponents of the theory, predicted that a second sphinx might be buried in a mound next to the Great Sphinx in Giza, after extensive historical study.
Similarly, Egyptologist Bassem al-Shamaa theorized that the remains of another female sphinx would be found under the sand of the Valley Temple of Khafre, parallel to the Great Sphinx. Several antiquities experts and scientists approved of al-Shamaa's theory, while others rejected it completely.
The well-known Sphinx statue is located by the Pyramid Complex in the northern governorate of Giza, and is likely to date back more than 4,500 years.
Based on a mythical ancient Egyptian creature, the Great Sphinx is 73.5 meters long, 6 meters wide and 20.22 meters high. It is believed to have been built under the reign of Pharaoh Khafra (2558-2532 BC).