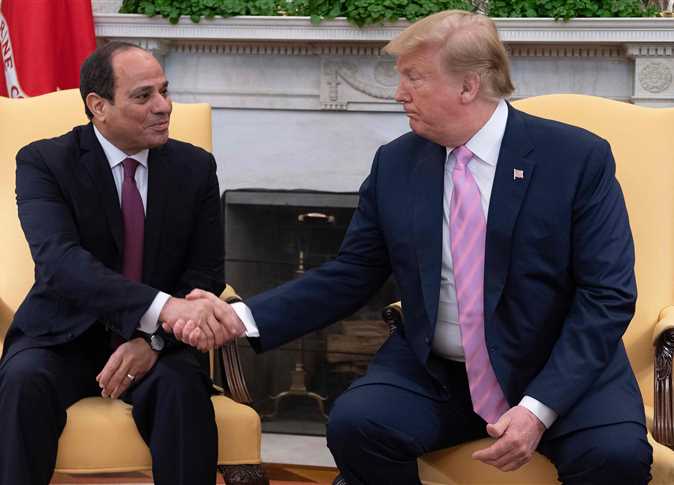 Egyptian President Abdel Fattah al-Sisi had a telephone call with US President Donald Trump on Monday to discuss the latest developments in the Libyan conflict, according to Egyptian Presidential spokesperson Bassam Rady.
Sisi reviewed Egypt's consistent strategic position on the issue, which is aimed at restoring the balance of the pillars of the Libyan state and preserving its national institutions, Rady said.
Sisi added that Egypt also aims to prevent any further deterioration in the country's security situation, and plans to do this by undermining illegal foreign interventions in the Libyan conflict, interventions that have only escalated the situation and made it more complicated, causing the repercussions of the crisis to affect regional security.
For his part, the US President expressed his understanding regarding concerns about the Libyan crisis' negative repercussions on the region. Trump praised Egypt's tireless efforts, which will improve the course of the political process in Libya.
Rady said that the two presidents agreed on securing and stabilizing the cease-fire in Libya and avoiding escalation in preparation for dialogue and political solutions.
Rady added that the talks also touched on developments in negotiations on the Grand Ethiopian Renaissance Dam (GERD), as well as some issues related to strategic bilateral relations between the two countries.
Egypt is working towards a ceasefire at Libya's eastern and western borders, while also preparing to launch comprehensive political settlement negotiations under the auspices of the UN to implement the resolutions of the Berlin Conference and the recently announced "Cairo Declaration," which is backed by Khalifa Haftar and Libya's parliamentary speaker Aguila Saleh.
The Cairo Declaration takes into consideration international resolutions, UN efforts, and Berlin Conference resolutions towards ending the Libyan crisis, Sisi previously explained, and paves the way for the future of Libya following the withdrawal of foreign forces and the dissolution of military militias.
However, there are expectations of an Egyptian military intervention in Libya. Sisi instructed the Air Force during a visit to the Western Military Command last month to get ready for operations inside or outside the country.
Sisi met with representatives of the Libyan tribal elders last week, who asked him to intervene in the event of an attack on Sirte. Sisi stressed that Egypt "will not stand idly by" in the face of any moves that might pose a threat to security in Egypt and Libya.
Egypt's House of Representatives authorized the armed forces to respond to Turkish interventions in Libya in a closed-door session on Tuesday.
The Libyan parliament earlier in July granted the Egyptian armed forces the right to intervene in the country's ongoing conflict to protect Libyan and Egyptian national security.
The decision allows Egypt to intervene if the Egyptian armed forces see an imminent threat to the security of the two countries.