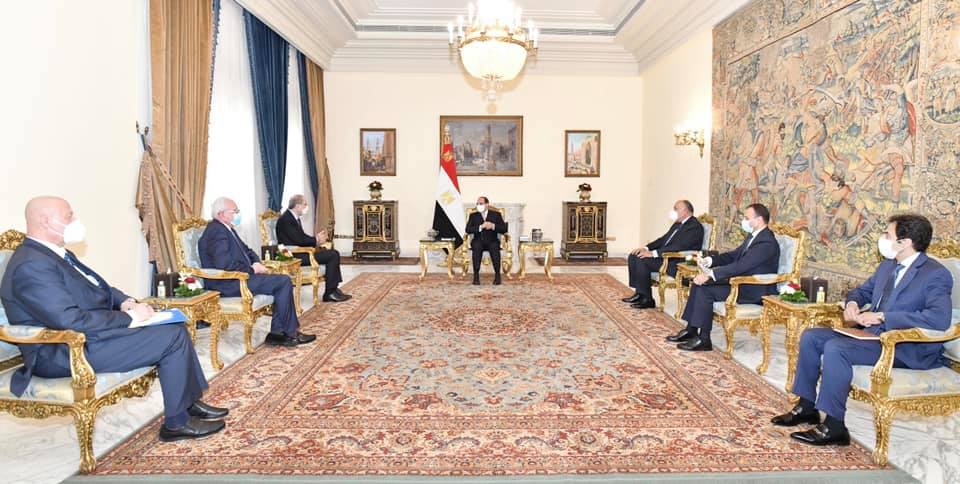 Egyptian President Abdel Fattah al-Sisi on Saturday welcomed Jordanian Foreign Minister Ayman Safadi and Palestinian Foreign Minister Riyadh al-Maliki, assuring them that the Palestinian issue is a constant priority for Egypt.
The spokesperson for the Egyptian Presidency Bassam Rady said that the meeting discussed developments regarding efforts to revitalize the peace process and the negotiation on the Palestinian issue.
Sisi affirmed that Egypt will continue its tireless efforts regarding Palestine.
He stressed that efforts are still continuing to restore the Palestinian people to their legitimate rights and establish their independent state according to the international legitimacy references – while taking into account recent global and regional changes.
The president also stressed on the importance of uniting Arab and international efforts to move effectively during the coming period to reactivate peace talks and overcome prior challenges.
Rady added that the meeting reached a consensus on continuing intensive coordination between all parties on various Palestinian issues, especially with regard to returning to bilateral negotiations alongside following up on the next steps in terms of unifying the Palestinian factions.
Maliki said last month that Palestinians were indirectly contacting with US President-elect Joe Biden's team. He said his government is ready to restore communication channels with Washington under the leadership of the next president.
The Palestinian Authority announced its refusal to have the United States play a mediating role after Washington recognized Jerusalem as the capital of Israel in 2017, and moved its embassy there.
Negotiations between the Palestinians and Israel stalled a year after US President Donald Trump assumed office in the White House