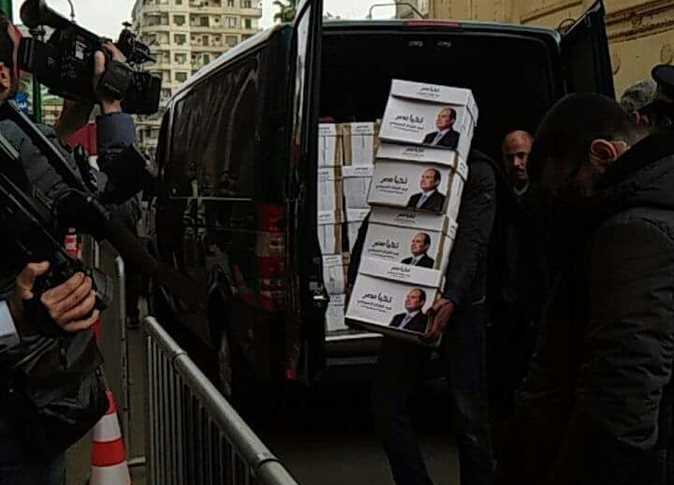 The electoral campaign for President Abdel Fattah al-Sisi submitted documents to the National Elections Commission (NEC) on Wednesday, seeking a second term for the sitting president.
Sisi announced on his official Facebook page that he assigned Mahmoud Karem as the general coordinator for his electoral campaign, and Bahaa al-Din Abo Shaqa as his legal representative and campaign spokesman.
On Friday, Sisi officially announced his intention to run for a second term, during the 'Kekayat Watan' (Story of a Nation) conference, where he spoke of achievements made throughout his first term.
In addition to Sisi, other candidates had previously declared their intention to run as candidates, including rights lawyer Khaled Ali – who awaits a court trial scheduled for March 7 which could prevent him from officially running; MP and Zamalek Sporting Club President Mortada Mansour; and Sami Anan, the former chief of staff of Egypt's Supreme Council of Armed Forces (SCAF), who was arrested on Tuesday after the Armed Forces accused him of "forgery" in submitting his documents, as well as "inciting" against the army.
Anan subsequently suspended his campaign.
The developments were similar to those faced by Former Prime Minister Ahmed Shafiq, who initially announced his intention to run for the presidency but pulled out a few weeks later, saying that he felt he was not the right person to lead the country.
He was reportedly placed under house arrest, held in a luxury Cairo hotel.
Similarly, Mohamed Anwar Sadat, nephew of former-President Anwar Sadat, initially demonstrated an intent to run in the election, but retracted on his candidacy, saying "We asked for things and did not find them, so we will not fight a losing battle."