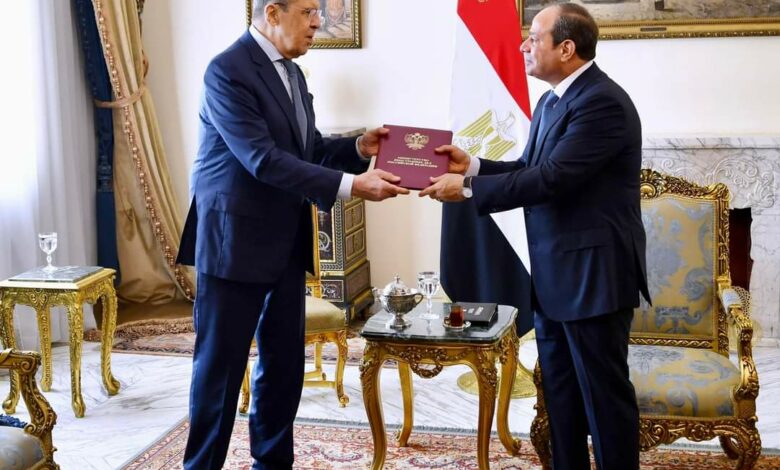 Egyptian President Abdel Fattah al-Sisi on Sunday received the Russian Foreign Minister Sergey Lavrov in Cairo, discussing various topics – central being the Russian invasion of Ukraine and its international shockwaves.
The meeting was attended by the Deputy Russian Foreign Minister, Mikhail Bogdanov, Russian Ambassador in Cairo Georgy Borisenko, Deputy Director of the Middle East and North Africa Department at the Russian Foreign Ministry, Maxim Maksimov, and the Egyptian Foreign Minister Sameh Shoukry.
Egyptian presidential spokesperson Bassam Rady said that Lavrov conveyed to President Sisi a message from Russian President Vladimir Putin regarding bilateral cooperation between the two countries.
He expressed the importance that Russia attaches to bilateral relations with Egypt as part of the partnership and strategic cooperation agreement between Egypt and Russia.
The message also included expressing appreciation towards Egypt's initiative to form a ministerial contact committee within the framework of the Arab League in an effort to settle the Ukrainian crisis, and the visit to the Russian capital, Moscow, by the concerned foreign ministers.
The Ukraine crisis
Rady said that Lavrov briefed President Sisi on the latest developments regarding the Ukrainian crisis and the latest Russian moves internationally.
President Sisi stressed the importance of giving precedence to the language of dialogue and diplomatic solutions to the crisis.
He stressed Egypt's support for all endeavors that would quickly settle the crisis politically in order to maintain international security and stability, and assured his nation's readiness to support this path through its international contacts with all powers and actors in the bilateral or multilateral framework.
Bilateral cooperation
Rady further explained that the meeting also dealt with some bilateral issues, such as cooperation in the fields of grain and food supply, as well as the oil and gas sector in light of the current crisis in those sectors.
President Sisi expressed his appreciation for the bilateral cooperation process represented in Russian projects in Egypt, foremost of which is the establishment of the Dabaa nuclear power plant and the Russian industrial zone in the Suez Canal axis and other investment and economic projects between the two countries in all sectors.