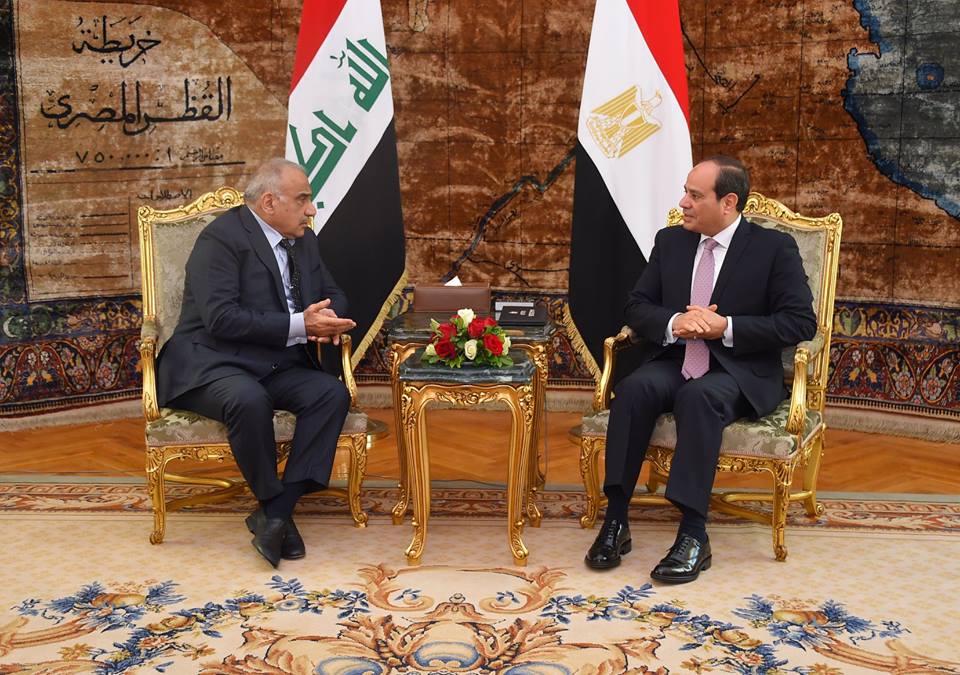 Egyptian President Abdel Fattah al-Sisi met with Iraqi Prime Minister Adel Abdul-Mahdi on Saturday in Cairo to discuss means of boosting joint Egypt-Iraq cooperation, especially in economic and trade fields.
The leaders also discussed investment opportunities available to both countries, as well as cooperation with other Arab countries especially in the light of a tripartite summit in Cairo scheduled on Sunday with King Abdullah II of Jordan.
Egypt's experience within the fields of infrastructure development was reviewed during the talks.
President Sisi expressed the country's readiness to transfer its experience to Iraq in order to contribute to the reconstruction of it's areas, along with a readiness to hold programs and training courses for Iraqi cadres in various fields.
Spokesman for the Egyptian Presidency Bassam Rady said that the talks also dealt with strengthening cooperation in security and combating terrorism. This comes in particularly importance in order to prevent the threat of foreign terrorists spreading.
Rady added that President Sisi affirmed Egypt's steadfast position to supporting Iraq's unity, stability, territorial integrity and non-interference in its internal affairs.
The president also expressed appreciation for the Iraqi PM choosing his first foreign visit to be Egypt, reflecting the bond the countries share.  Sisi further affirmed Egypt's support to the new Iraqi government, the importance it attaches to its relations with Iraq, and keenness to develop them in various fields.
For his part, the Iraqi Prime Minister expressed the Iraqi people's appreciation for Egypt's leadership and support for his country, and how Egypt represents a cornerstone within the region.
Abdul-Mahdi stressed Iraq's willingness to push relations with Egypt further, strengthening cooperation at all levels.