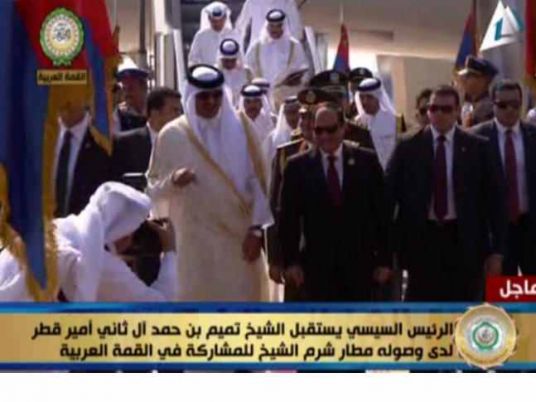 President Abdel Fattah al-Sisi held talks with Qatari emir Tamim bin Hamad Al Thani prior to the Arab League's 26th summit in Sharm el-Sheikh, Qatari news agency QNA reported.
Sisi received the Qatari emir at the Sharm el-Sheikh International Airport, where both leaders held talks on "bilateral relations and ways of developing them in all fields for the welfare and interests of the two countries and the two brotherly peoples."
This is Tamim's first visit to Egypt since he assumed the throne in June 2013 amid tense relations with Cairo over Doha's support for Mohamed Morsi, whom Sisi ousted that same year.
Relations between both countries have since witnessed a relative detente thanks to an initiative by late Saudi King Abdullah bin Abdul Aziz.
An Arab diplomat told Anadolu Agency that Egypt was considering a Saudi proposal for a mini-summit gathering of the leaders from Egypt and Qatar on the sidelines of the Sharm el-Sheikh summit.