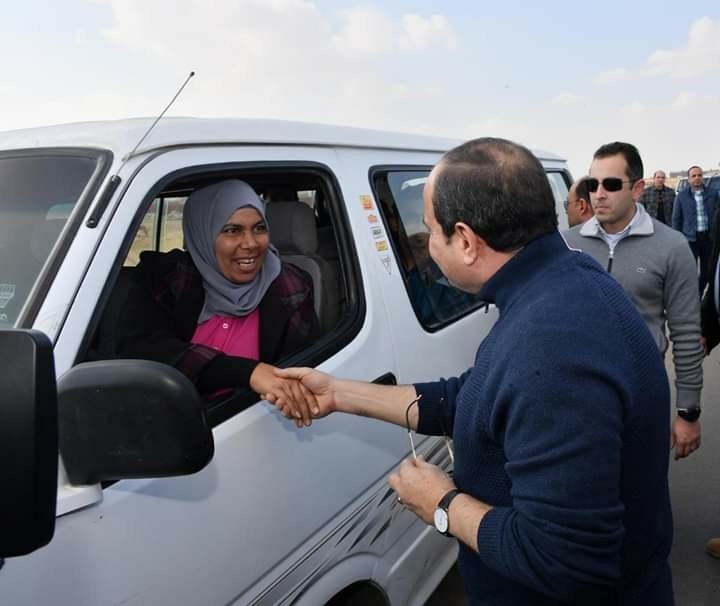 Egyptian President Abdel-Fattah al-Sisi's Thursday call to "Yahdoth fi Masr" (Happening in Egypt) was a complete surprise to the evening TV program, according to MBC Masr's Editor-in-Chief Tarek Amin.
MBC Masr had received a call from the presidential office in between displaying a short video about the female microbus driver, Nehmedo Saeed and her appearance as a guest on the MBC TV show in Thursday's episode, Amin told Al-Watan newspaper.
Amin added that the president was keen to show appreciation to Saeed over a phone call during her interview with MBC Masr.
Saeed and Sisi had met in the morning, during his tour of Egypt's New Administrative Capital. She explained to him that she was a driver on the Administrative Capital to Shorouk route, and asked the President if he could provide a down payment on a microbus so that she could pay the monthly installments. He accepted, gifting her the new vehicle.
Editor-in-Chief Amin remarked that Sisi's communication with MBC Masr was a natural step, as the channel discusses all issues relating to Egyptian society.
In his call, Sisi stated that Egyptian women have a very high degree of pride and modesty, and are very family-oriented.
"All greetings and appreciation to Ms. Nehmedo. I salute every similar woman who works hard for her children. I always appreciate Egyptian women," Sisi was quoted.
"Sometimes, the media presents picture contrary to reality. I meet a lot of employees, and they do not complain about their difficult conditions and are satisfied with the economic conditions," he continued. "Our meetings are rather a form of appreciation."
Photo credit: Ahmed Abdelmageed's Facebook account.