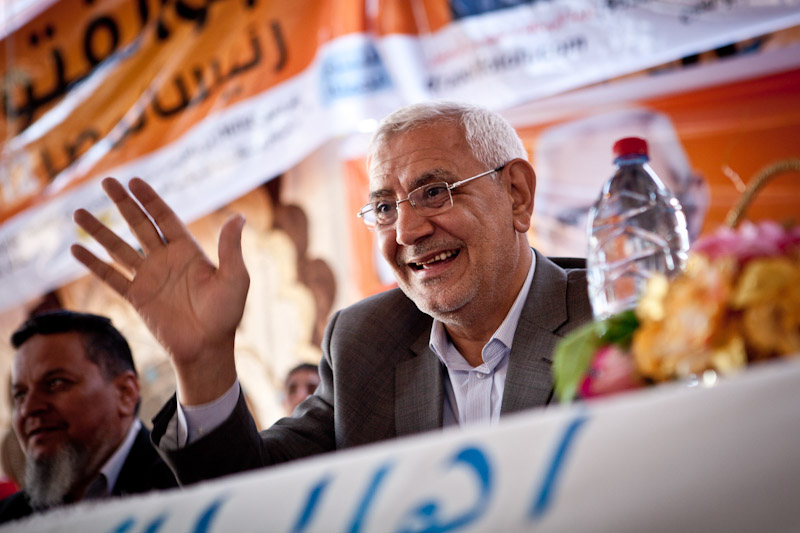 Egypt's Ministry of Interior said on Wednesday that six people were arrested on the farm of the detained politician and former presidential candidate Abdel Moneim Aboul Fotouh, accusing them of being members of terrorist groups, aiming to destabilize the country's security, constitution and law.
The ministry said in a statement that the suspects, who were wanted in several terrorism-related cases, were found in possession of three rifles, adding that security forces are still searching for two others who facilitated refuge to the arrested in the farm upon Aboul Fotouh's orders.
On Tuesday, a Cairo criminal court placed Aboul-Fotouh on the terrorism list for his connection to the Muslim Brotherhood, which was designated a terrorist group in 2013.
Last week, Egyptian security forces arrested the head of the Strong Egypt Party,  Aboul Fotouh, for alleged ties with Egypt's outlawed Muslim Brotherhood. Aboul Fotouh is said to have communicated with MB leaders abroad and incited against the Egyptian state, calling for suspending the constitution and boycotting the 2018 presidential election.
Aboul Fotouh was arrested from his home in New Cairo after the country's state prosecution ordered his detention. According to the Strong Egypt Party, policemen dressed in civilian clothing approached his house with an arrest warrant.
He was taken away along with members of his party who were visiting him upon his return from London, where he reportedly gave an interview to Qatari owned Al-Jazeera and criticized state policies.
Secretary of the 'Tahya Misr' (Long Live Egypt) Fund Tarek Mahmoud stated on Tuesday that he will launch a lawsuit to dissolve the Strong Egypt Party within the coming days, after prosecutor-general Nabil Sadek placed the party on a terror list.
Aboul Fotouh was one of the leading presidential candidates in the country's 2012 presidential election. He secured 18 percent of the first round vote, after quitting the MB in pursuit of an independent bid for the presidency.