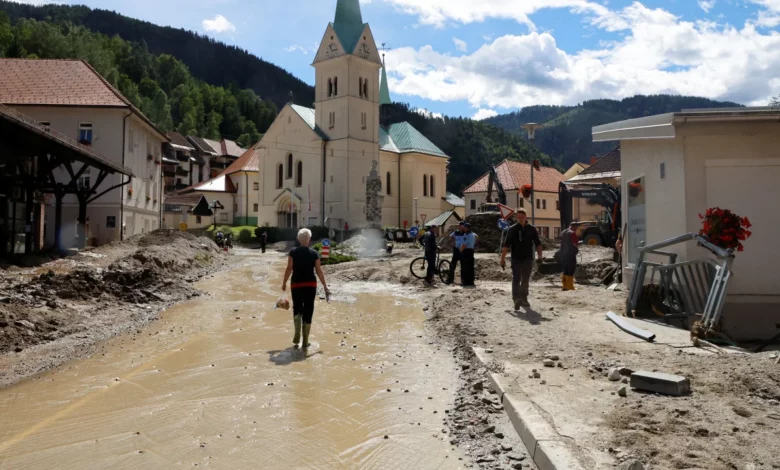 CNN
 —  Devastating floods and other adverse weather conditions in
Slovenia
have killed at least six people and caused $500 million worth of property damage, a government spokesperson told CNN on Monday.
Slovenia's Prime Minister Robert Golob said on Saturday the flooding which began on Friday has become the "worst natural disaster to ever hit" the country.
The floods caused rivers to rise and break out into fields and towns, leading to the destruction of roads and infrastructure, a spokesperson for the Slovenian Environmental agency added.
"There's incredible damage around the country, " the Environmental agency spokesperson said Monday, after confirming that a month's worth of rain fell in less than a day.
Golob visited some of the affected areas on Sunday and reiterated how the country had already requested assistance under the EU Civil Protection Mechanism, as well as from neighboring countries to support Slovenia during the floods.
"It is even more important that we are here today to set up an effective restoration. Intervention is well regulated. It is known who is responsible, how the intervention takes place and who provides resources," Golob said during his visit to Škofja Loka where the situation was described as "very worrying."
Golob also visited Medvode on Sunday where he stressed that the "government would make every effort to ensure that the money would reach the most vulnerable," according to the government statement.
"People will not be left alone," Golob was quoted saying, reiterating that the Government allocated just over $10 million of humanitarian aid to the Slovenian Red Cross and Caritas Slovenia to help the residents of the affected areas.
The Slovenian government's appeal for international assistance through EU and NATO mechanisms includes the request of heavy machinery for debris removal, engineering teams, provisional road transportability and temporary bridges up to 40 meters (31 feet) in size.
Military helicopters for transport assistance and 200 soldiers "to carry out protection, rescue and assistance tasks" have also been requested, according to a statement released by the Slovenian government on Sunday.
Croatia has provided assistance with the deployment of "a military helicopter to help close and secure a broken levee on the Mura River and to help reinforce its embankments," the statement added.
"Help from other countries is still expected to arrive. The assistance is being coordinated through the Administration of the Republic of Slovenia for Civil Protection and Disaster Relief, which is in constant contact with the two aid coordination centres in Brussels," the statement said.