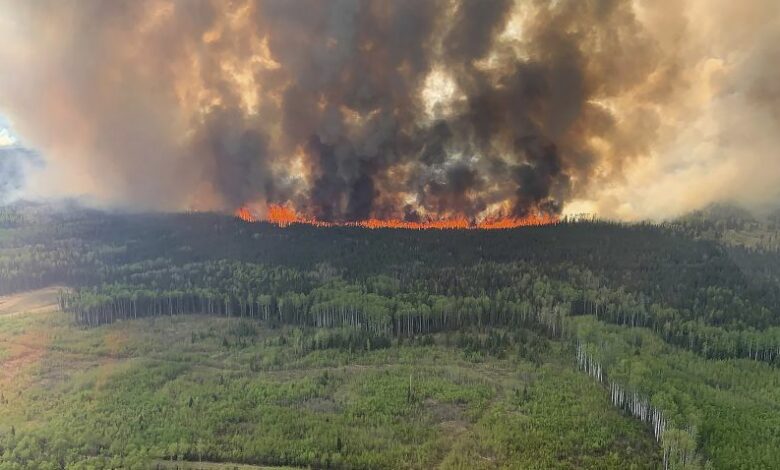 CNN
 —  The smoke from
hundreds of wildfires
burning in Canada, which has already blanketed parts of the US and placed
around 75 million people
under air quality alerts, has reached as far as Norway, according to scientists in that country.
Over the last few days, plumes of smoke have stretched from Canada across Greenland, Iceland and made their way to Norway.
Scientists at the Climate and Environmental Research Institute in Norway (NILU) have been able to detect the increase in smoke using very sensitive instruments and then confirm its origin using forecast modeling.
People in Norway may be able to smell and even notice the smoke as a light haze but, unlike parts of the US that have seen hazardous pollution, they should experience no health impacts, said Nikolaos Evangeliou, a senior scientist at NILU. "The fires traveling from such long distances arrive very diluted," he told CNN.
Over the coming days, the plume is expected to spread across swaths of Europe but it's unlikely people will be able to smell or notice the smoke, Evangeliou said.
It's not unusual for wildfire smoke to travel long distances. "Smoke from wildfires such as those in Canada is injected at high altitudes thus staying in the atmosphere longer and able to travel over far distances," he said.
In 2020, smoke from California's record-breaking wildfires was detected in Svalbard, a Norwegian archipelago located deep inside the Arctic Circle.
The smoke brings negative climate impacts. Wildfire smoke moving over the Arctic deposits soot on the snow and ice, darkening the white surface, which allows it to absorb more heat. This, in turn, accelerates Arctic warming.
The Arctic is already warming around four times faster than the rest of the world, which has global consequences, including influencing extreme weather events such as heatwaves, wildfires, and floods.
The levels of soot arriving from the Canadian wildfires are not expected to have a direct impact on Arctic melting because they are too dilute, Evangeliou said. But the concern is that if fires in the high latitudes increase, which they have done over the past few decades and are projected to do further, then more soot will deposit, he added.
As the climate crisis intensifies, wildfire seasons are expected to increase in severity, especially as droughts and heat become more common and more severe.